Lemon Sugar Baked Donuts
Lemon Sugar Baked Donuts are soft, tender, and bursting with lemon flavor! They are the perfect, easy baked treat for any occasion!
Hi there, Belle of the Kitchen friends! It's Samantha from Five Heart Home, where I share quick and easy, family-friendly, real food recipes…and today I'm so excited to be guest posting for fabulous Ashlyn while she and her family are in the process of moving to my home state of Texas — yippee! Or perhaps that should be yee-haw… 😉 At any rate, today I brought over some Lemon Sugar Baked Donuts and I think y'all are going to love these beauties as much as my family does!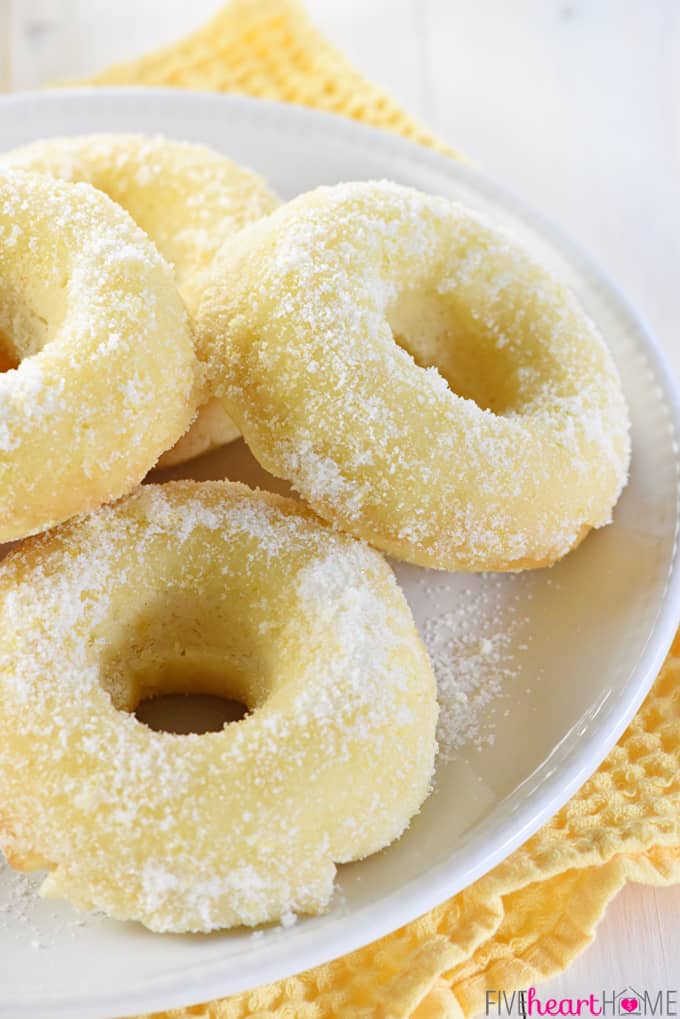 Have you tried baked donuts yet? They're such yummy, versatile little treats, with a soft texture that's probably more akin to that of a muffin than a donut…but they're delicious nonetheless. The donut shape alone makes them fun to eat, meaning they're a special addition to a weekend breakfast or celebratory brunch…without the guilt of greasy fried donuts. Don't get me wrong, we occasionally (and happily) indulge in those as well! But these Lemon Sugar Baked Donuts provide that sweet donut fix in a slightly lightened up form, so why not have the best of both worlds?!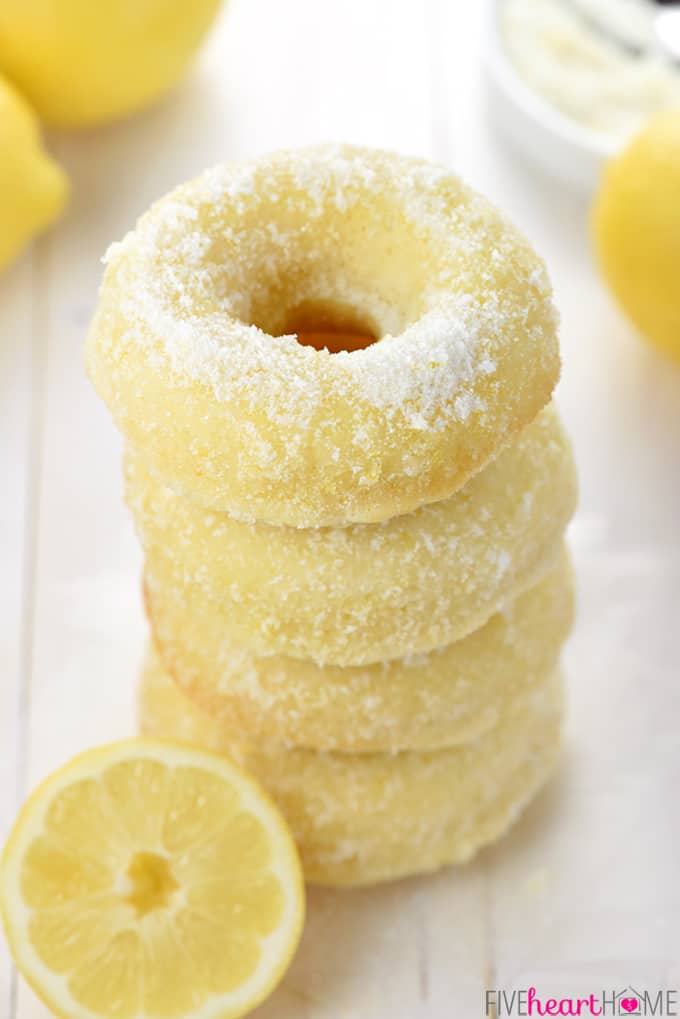 My family adores anything lemon, so I thought it would be tasty to take the basic baked donut recipe that came with my donut pans and adapt it to include lemon juice and lemon zest in the batter. I also combined some regular granulated sugar and fresh lemon zest in the food processor and ground them together to make a sweet and tangy lemon-sugar coating. The resulting donut delights are bursting with lemon, inside and out!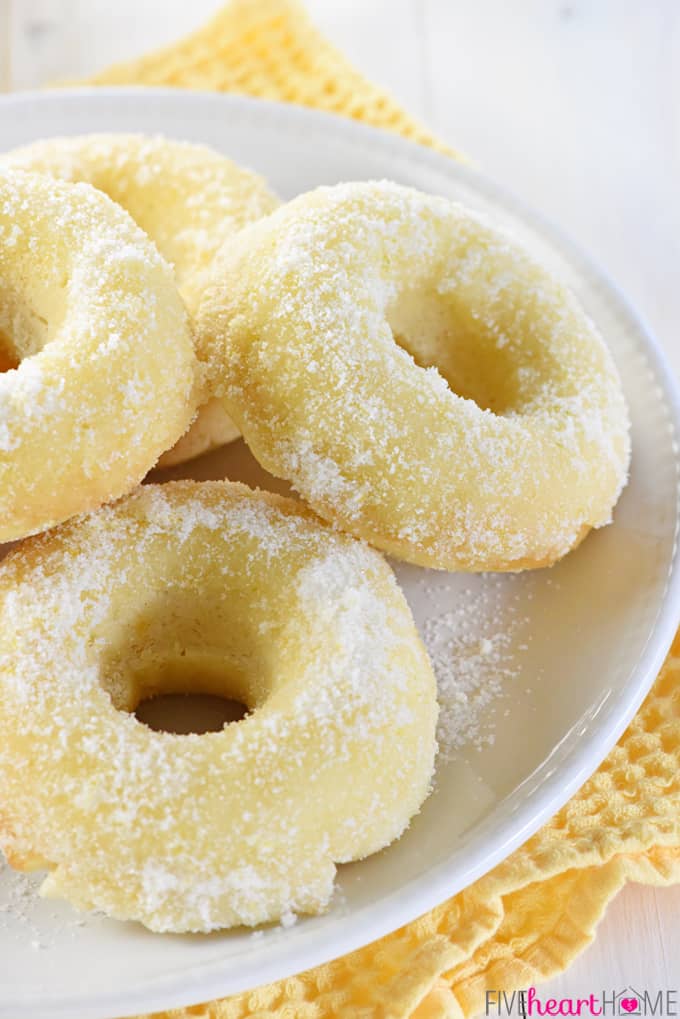 So the next time you're in the mood for donuts — or in need of a lemon fix — look no further than these Lemon Sugar Baked Donuts. They're easy to make, they're scrumptious, and they're guaranteed to disappear in to time! 🙂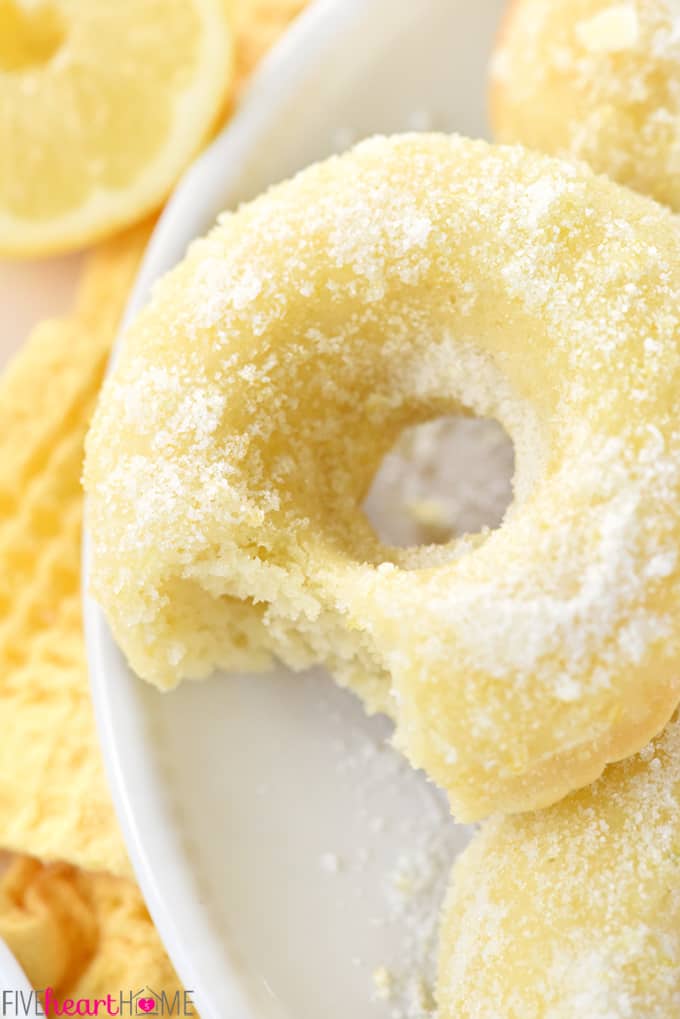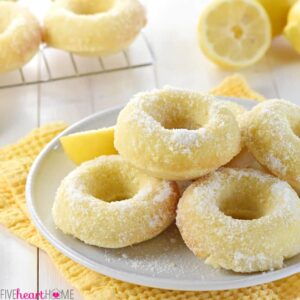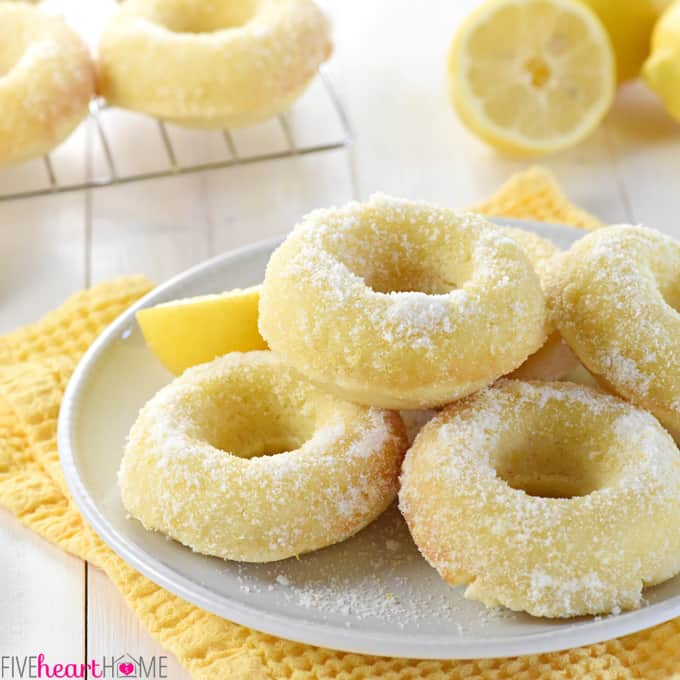 Lemon Sugar Baked Donuts
Lemon Sugar Baked Donuts are soft, tender, and bursting with lemon flavor!
Ingredients
1 3/4 cup all-purpose flour
1/4 cup cornstarch
3/4 cup sugar
2 teaspoons baking powder
1 teaspoon salt
3/4 cup buttermilk
2 eggs
2 tablespoons butter,, melted
1 tablespoon freshly-squeezed lemon juice
1/2 teaspoon pure vanilla extract
2 teaspoons grated lemon zest
FOR THE COATING:
1/2 cup sugar
4 teaspoons grated lemon zest
4 to 5 tablespoons butter,, melted
Instructions
Adjust oven racks to center position and preheat oven to 425°F. Spray two 6-cavity donut pans with nonstick cooking spray and set aside.

In a large bowl, sift together flour and cornstarch. Whisk in sugar, baking powder, and salt until well blended. Stir in buttermilk, eggs, butter, lemon juice, vanilla, and lemon zest until batter is smooth and combined, but do not over-mix. Evenly divide the batter between the prepared donut pans.

Bake for 7 to 9 minutes until the edges of the donuts begin to turn a light golden brown and the tops of the donuts spring back when lightly touched. Allow donuts to cool for 5 minutes in pans before turning them out onto a cooling rack.

In a mini food processor, combine the sugar and lemon zest and pulse until finely ground (you may simply stir together the sugar and zest if you don't have a food processor). Place the melted butter in a shallow bowl. Dip one side of each donut in the butter, and then press into the sugar/zest mixture. Serve warm or at room temperature.
Calories: 194kcal, Carbohydrates: 38g, Protein: 3g, Fat: 3g, Saturated Fat: 1g, Cholesterol: 33mg, Sodium: 238mg, Potassium: 117mg, Sugar: 21g, Vitamin A: 125IU, Calcium: 53mg, Iron: 1mg
Thanks so much for having me today, Ashlyn and Belle of the Kitchen readers! I hope to see you again soon over at Five Heart Home, where you can find recipes like these… 😉
2-Ingredient Baked Parmesan Zucchini Rounds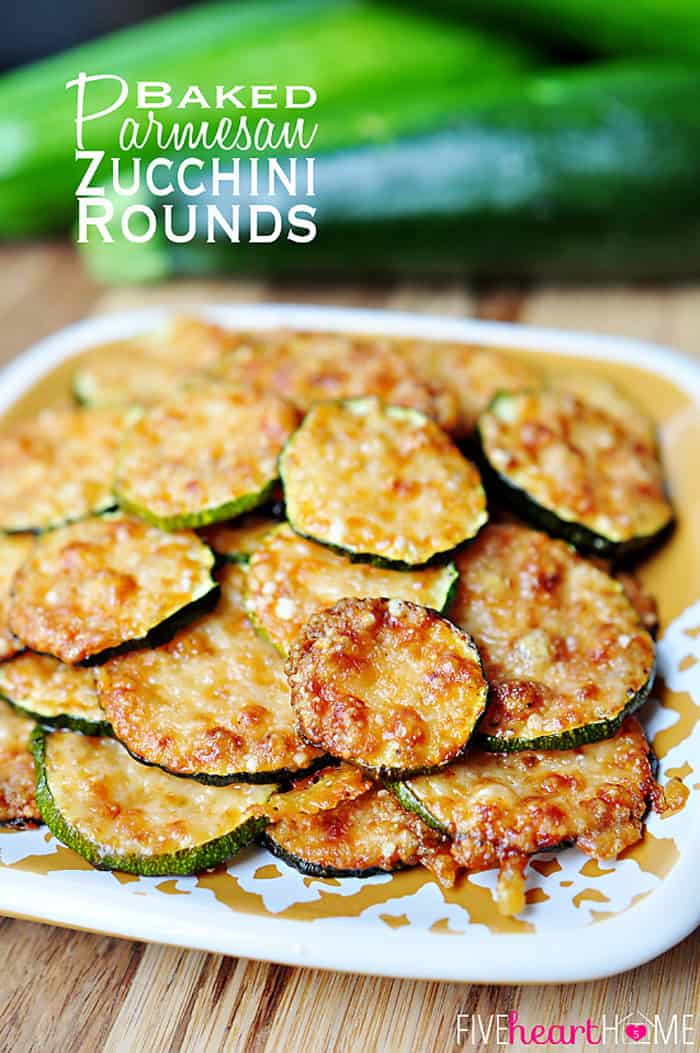 25 Amazing Real Food Slow Cooker Recipes


I'd be honored to have you connect with me via social media as well!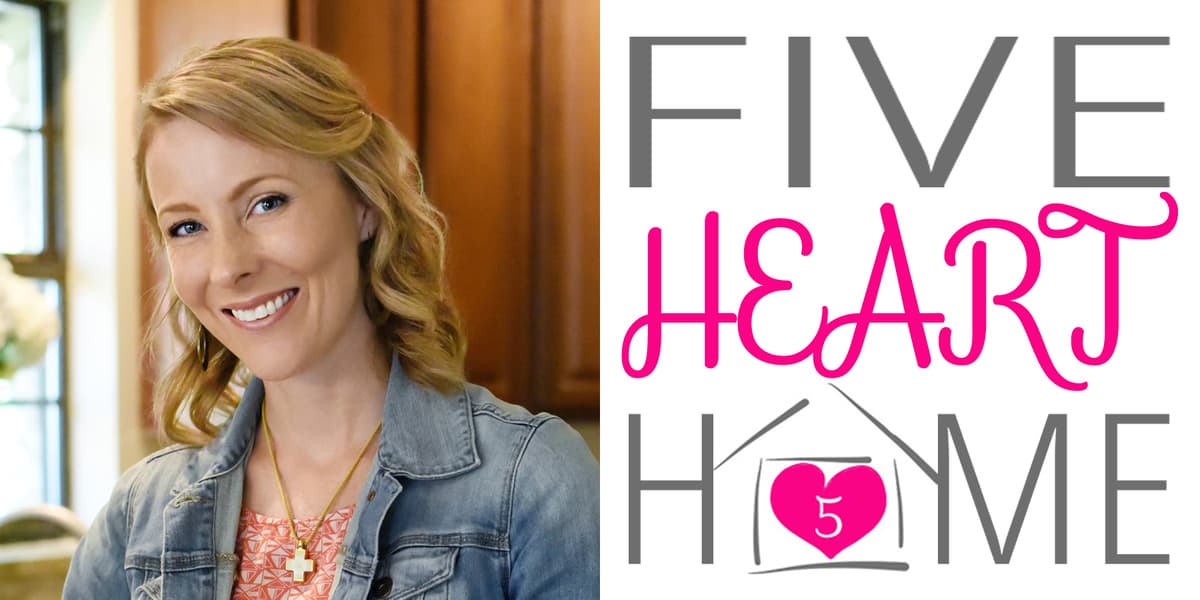 This site contains affiliate links, if you make a purchase through them, we receive a small commission.