Zucchini & Yellow Squash Gratin
So my husband and I have a little debate going and I'm hoping y'all can help us sort it out. It has to do with the correct pronunciation of today's recipe, Zucchini & Yellow Squash "Gratin," which also happens to be my husband's favorite side dish.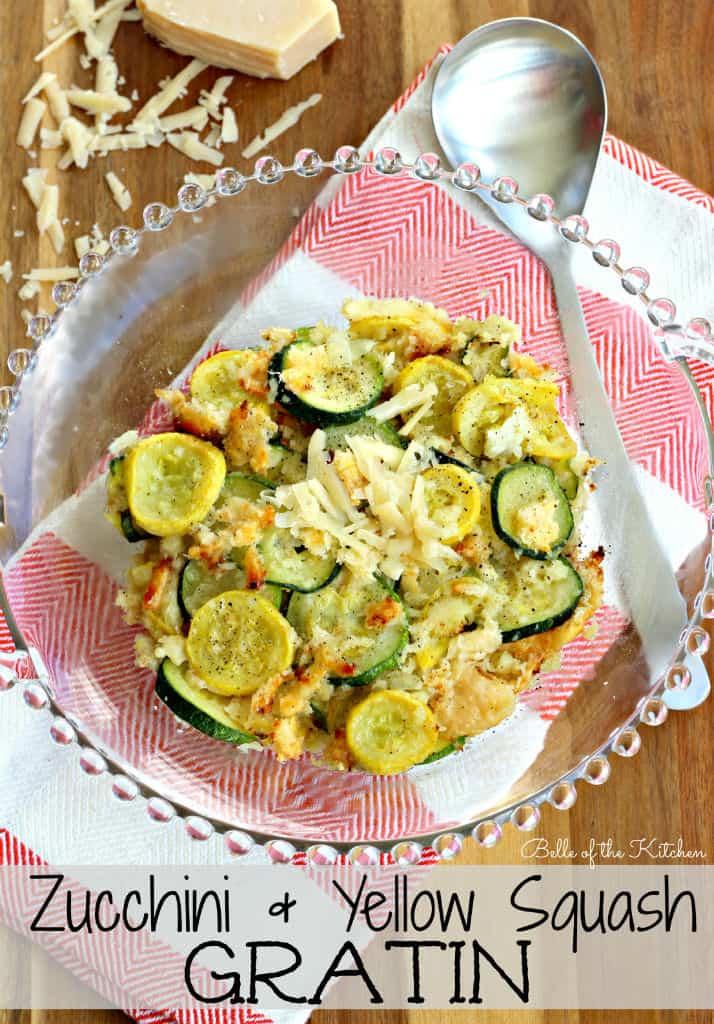 For as long as I've been making this, my husband has always insisted that the way I pronounce it, "gruh-tan," is incorrect. I've said it this way because that's how I heard it pronounced by one of the hosts on Top Chef awhile back. And if Tom Colicchio says it that way, then by golly it must be right!
My husband, on the other hand, claims that it's pronounced, "grawt-in." Now that just sounds all kinds of wrong to me! But what do y'all think? Which of us is right? Or, are we BOTH wrong?! 🙂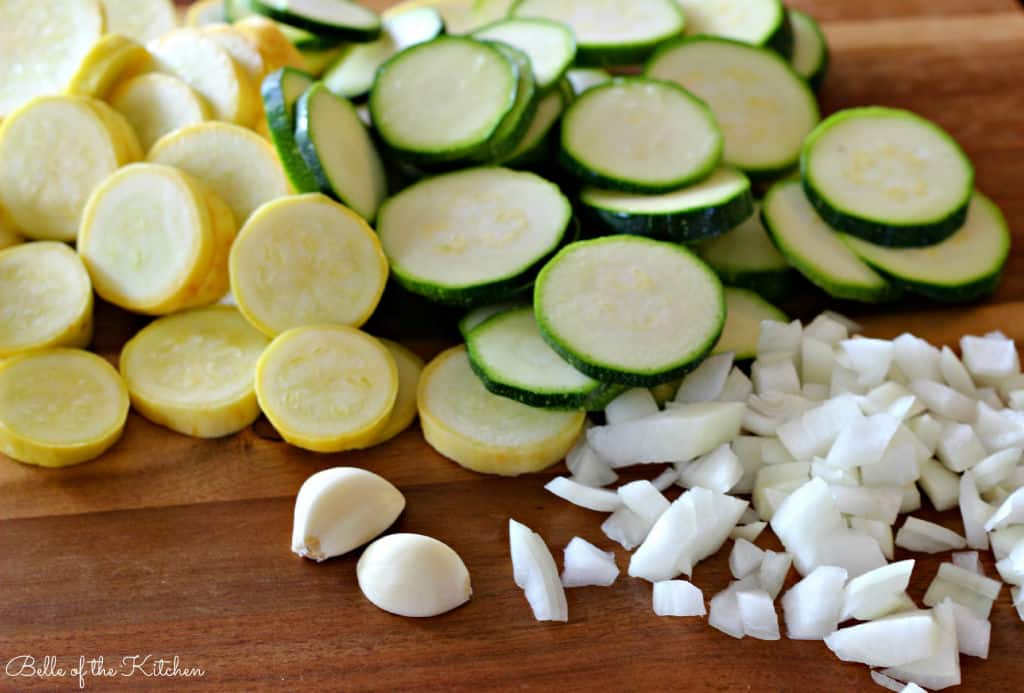 Language lessons aside, this is an incredibly delicious side dish to pair with just about any meal. Zucchini and yellow squash are two of my favorite veggies and I love them even more with a crunchy topping! And I don't know about you, but I have a terrible habit of putting a lot of effort into making a main dish and then totally neglecting the sides. Which is usually why we eat a lot of salads since I can just throw some greens on the plate and call it a day!
This side dish is the exception, though! It's easy and yummy, and the hardest part is just doing a bit of chopping. Plus, it's mainly vegetables, which makes it even better. And as for the other ingredients; I mean, hey, a little cream, butter, and parmesan never hurt anybody. 😉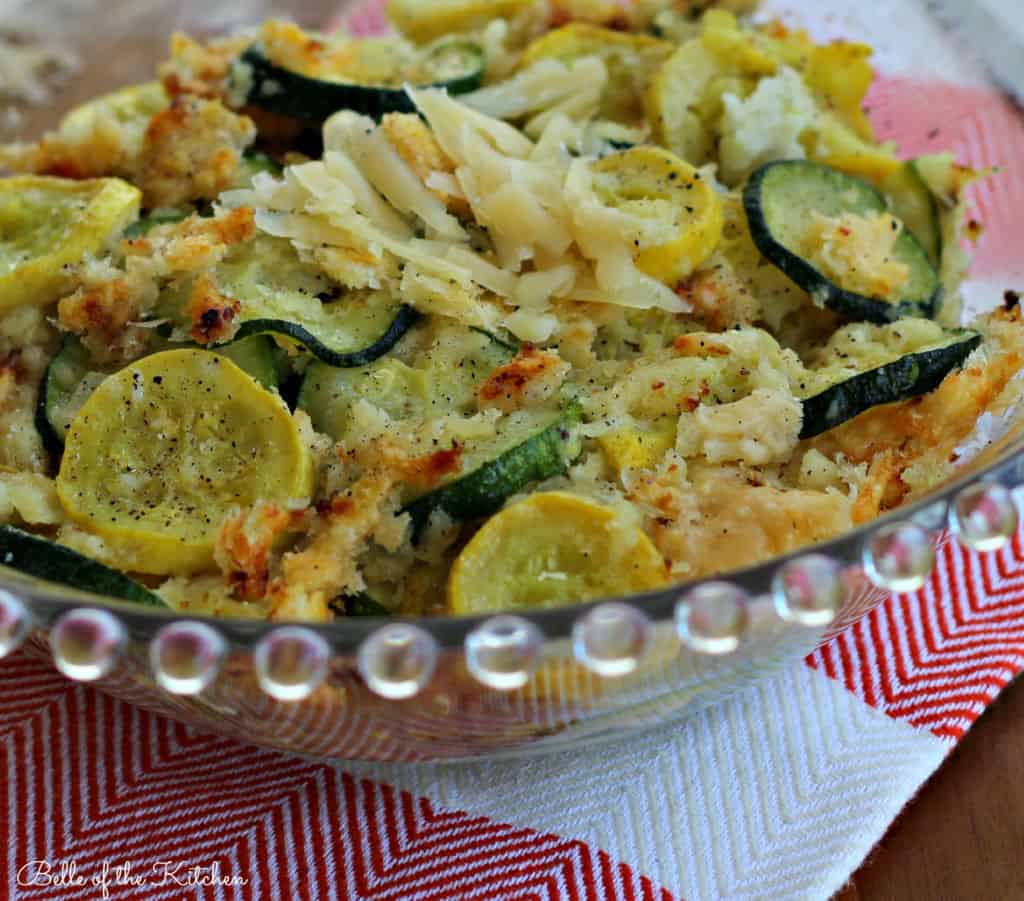 Hope y'all enjoy this recipe and hope you're all having a great weekend! And please, let me know your thoughts on "gruh-tan." 😉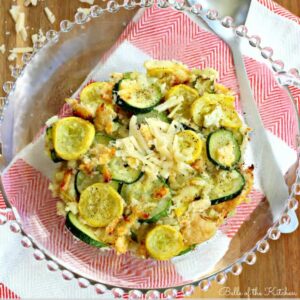 Zucchini & Yellow Squash Gratin
This Zucchini and Yellow Squash Gratin is an incredibly tasty side dish and goes so well with all kinds of meals!
Ingredients
2 tablespoons butter
2 medium zucchini, sliced in 1/4 inch coins
2 medium yellow squash, sliced in 1/4 inch coins
1/2 cup onion,, diced
2 garlic cloves,, minced
salt and ground pepper,, to taste
1/2 cup heavy cream
1 cup panko
1/2 cup grated Parmesan cheese
Instructions
Preheat oven to 450. In a large skillet, melt butter over medium heat; add zucchini, yellow squash, onion, and garlic. Season with salt and pepper. Cook, stirring occasionally, until zucchini and squash are crisp-tender, 4 to 6 minutes.

Add cream, and cook until thickened, about 5 minutes. Remove skillet from heat; stir in 1/2 cup panko and 1/4 cup Parmesan.

Spoon mixture into a shallow 2-quart baking dish. Sprinkle with remaining panko and Parmesan. Bake until top is golden, 8 to 10 minutes.
Calories: 205kcal, Carbohydrates: 13g, Protein: 6g, Fat: 14g, Saturated Fat: 8g, Cholesterol: 44mg, Sodium: 248mg, Potassium: 406mg, Fiber: 2g, Sugar: 4g, Vitamin A: 740IU, Vitamin C: 24.1mg, Calcium: 149mg, Iron: 1mg
This site contains affiliate links, if you make a purchase through them, we receive a small commission.