Butterscotch Banana Bread – Moist and delicious banana bread is made extra special with sweet butterscotch chips. Once you try this, you'll never want regular banana bread again!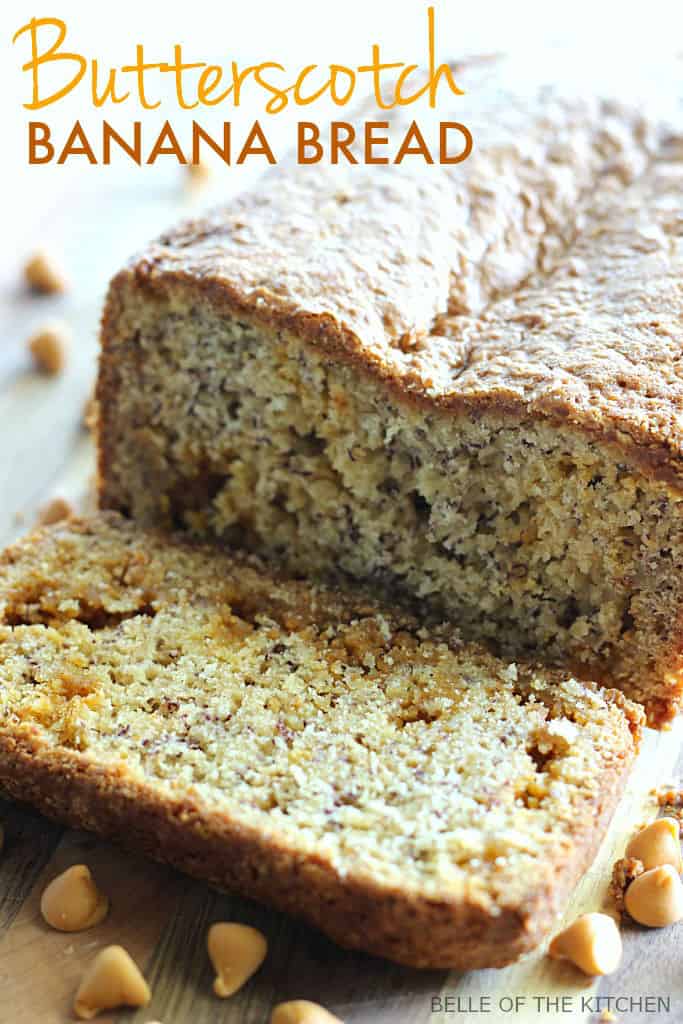 Banana bread is like comfort food to me. There is just something about that amazing smell filling up the house that brings down my stress level and makes me feel immediately relaxed. On days when the kids, or our schedule, or the million other tedious things that pop up on a day-to-day basis start to wear me down, I like to take my frustrations out on some ripe bananas. Mashing is good for the soul, y'all!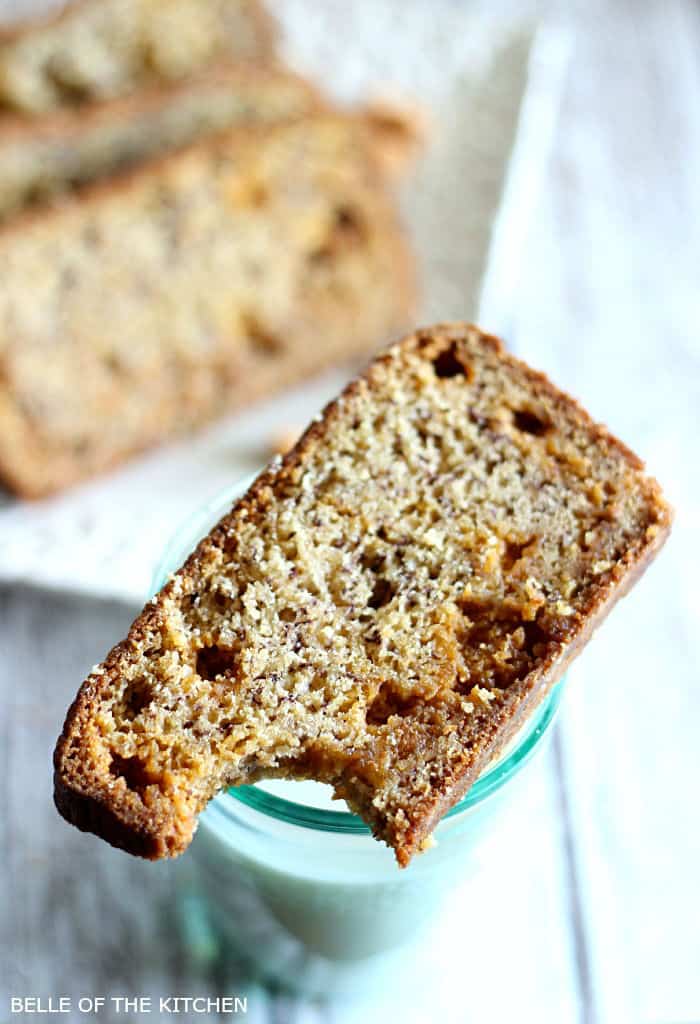 Now I know a lot of folks enjoy their banana bread with nuts or chocolate chips. I for one can't turn down anything that involves chocolate, so I'm always willing to scarf down a big ole hunk of banana bread with chocolate chips. But ya know what? I think it's time for chocolate chips to step aside. Oh yes, I think I have found banana bread's new true love and her name is Butterscotch. 😉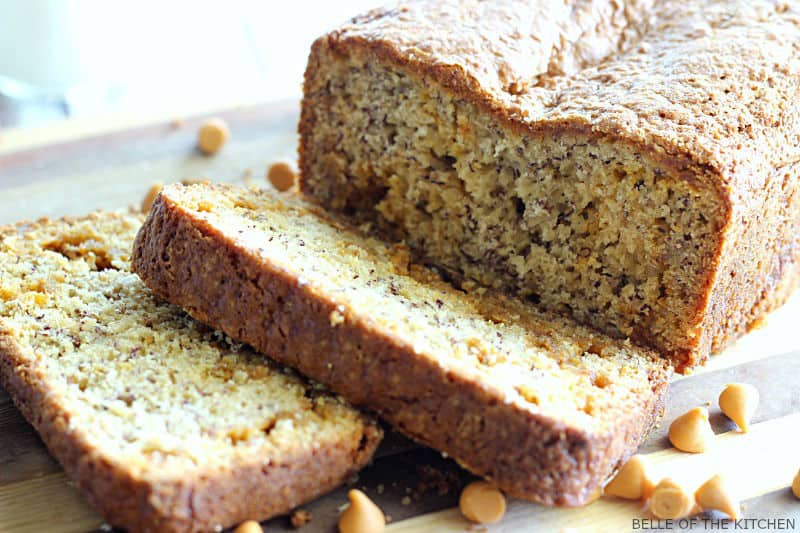 Now the pictures (and post) for this Butterscotch Banana Bread came a bit later than I had originally planned. See, this is the second time I've made this. When I made it the first time I spent some time slicing it up and arranging it all fancy-like for picture taking. I only had a few minutes to get my photos  done before I had to leave to pick my son up from school, so I was trying to rush. Of course, the sun must've know I was in a hurry and was being a big pain in the you-know-what, so my lighting was terrible and I was feeling frustrated. I decided to give it another try once I got back home from picking up my son.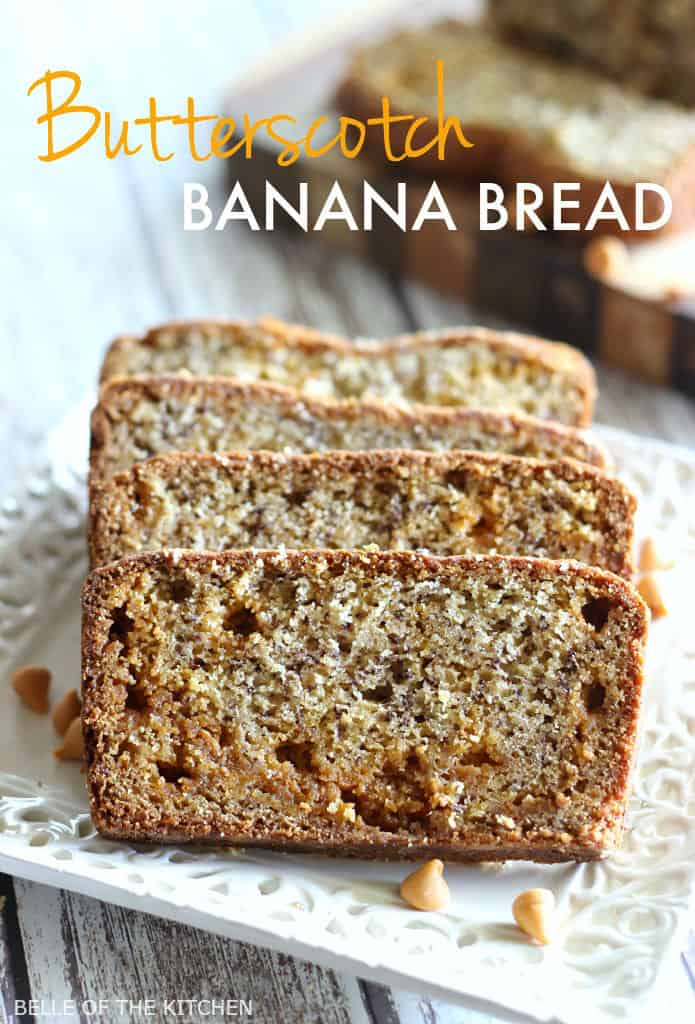 When we arrived back home, my mind was away on other things and I forgot all about the banana bread sitting up on the kitchen table. I realized I had a load of laundry that needed to be started so I got to work on that, still forgetting about the bread. Once I had the washer going, I walked back into the kitchen, only to be stopped right in my tracks. My KIDS were sitting ON TOP OF THE TABLE (honestly not such a surprise for my mountain-climbing-20-month-old, but definitely a surprise to see my nearly five year old up there) and they were STUFFING THEIR FACES with banana bread. I mean, it's like they hadn't seen food in days, the speed with which they were inhaling it!
At first I was a little mad, but then my son (who knows just how to butter me up) yells out, "MAMA! This is the best cake ever!" And in that moment, I just let it go. I pulled up a chair, sat down, and start stuffing my face right along with them. Cake…bread…whatever you want to call it. It's just too good to feel stressed while eating it. 🙂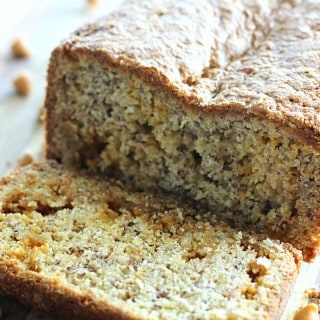 Butterscotch Banana Bread
Butterscotch Banana Bread – Moist and delicious banana bread is made extra special with sweet butterscotch chips. Once you try this, you'll never want regular banana bread again!

Total Time
1
hour
10
minutes
Ingredients
2

cups

self rising flour

1

cup

sugar

1/2

teaspoon

baking soda

1/2

cup

butter,

melted

1

teaspoon

vanilla

2

large eggs,

beaten

2

large bananas,

mashed

3/4

cup

butterscotch chips
Instructions
Preheat oven to 350 degrees. Grease and flour a 9x5 loaf pan and set aside.

In a large mixing bowl, combine flour, sugar, and baking soda. In a medium bowl, mix together butter, vanilla, eggs, and mashed bananas. Add banana mixture to the dry ingredients and mix until just combined. Carefully mix in butterscotch chips.

Pour batter into prepared baking pan and bake in preheated oven for 55-65 minutes, until a toothpick inserted in center comes out clean.

Remove from oven and place on a wire rack to cool. Enjoy!
Nutrition Facts
Butterscotch Banana Bread
Amount Per Serving
Calories 278
Calories from Fat 81
% Daily Value*
Fat 9g14%
Cholesterol 48mg16%
Sodium 165mg7%
Potassium 101mg3%
Carbohydrates 45g15%
Protein 3g6%
Vitamin A 300IU6%
Vitamin C 1.7mg2%
Calcium 10mg1%
Iron 0.4mg2%
* Percent Daily Values are based on a 2000 calorie diet.