These Sugar Cookie Bars are so yummy and much easier to make than traditional sugar cookies! The dough is baked on one large cookie sheet, then topped with a homemade vanilla frosting. Just slice and enjoy!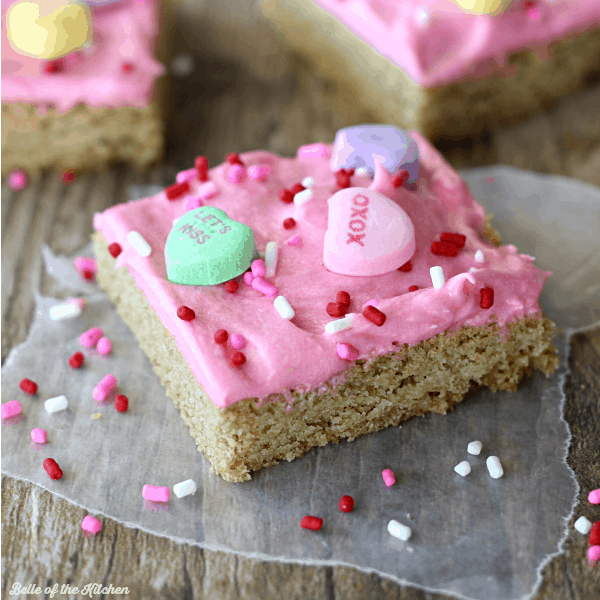 I can't believe that Valentine's Day is just a few days away and I haven't shared a single recipe yet! I love Valentine's Day and all of the fun treats that go along with it. One of my favorites are these Buttermilk Chocolate Cupcakes I made for Valentine's Day last year. They have a whipped ganache frosting!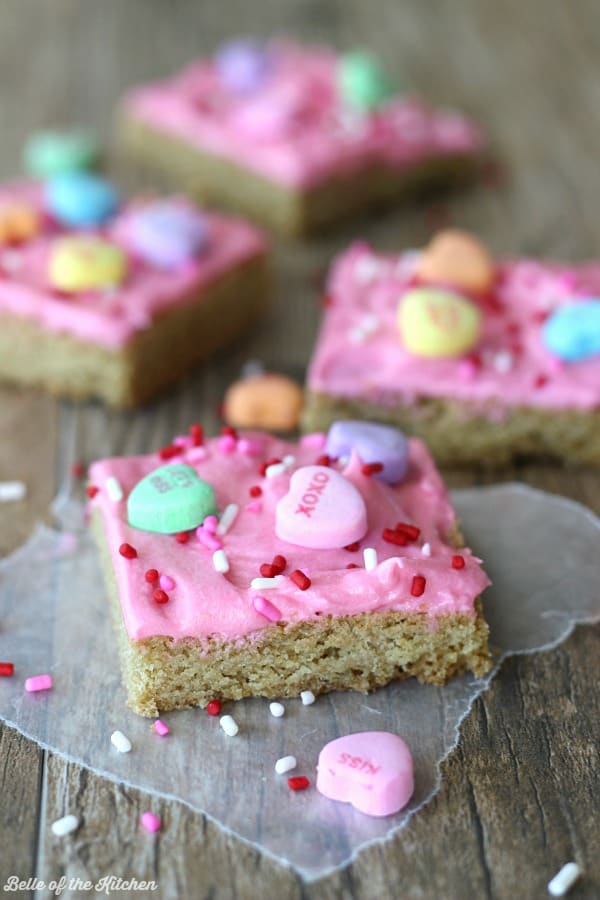 I love Valentine's Day for a couple of reasons. One: it's actually my parents' anniversary! Because of this, they always made a big deal out of Valentine's Day when we were growing up. We would have a special dinner together as a family, and we'd each get packages with plenty of treats and candy. It was always a fun day that we looked forward to.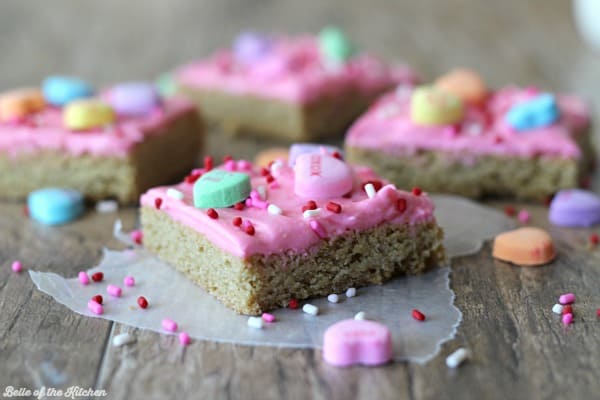 Another reason that I love Valentine's Day so much is that my husband proposed to me on February 15th. I was totally surprised because I thought all of the special things he was doing for me that night (including recreating our first date) was simply to celebrate Valentine's Day a day late. Boy was I wrong! 😉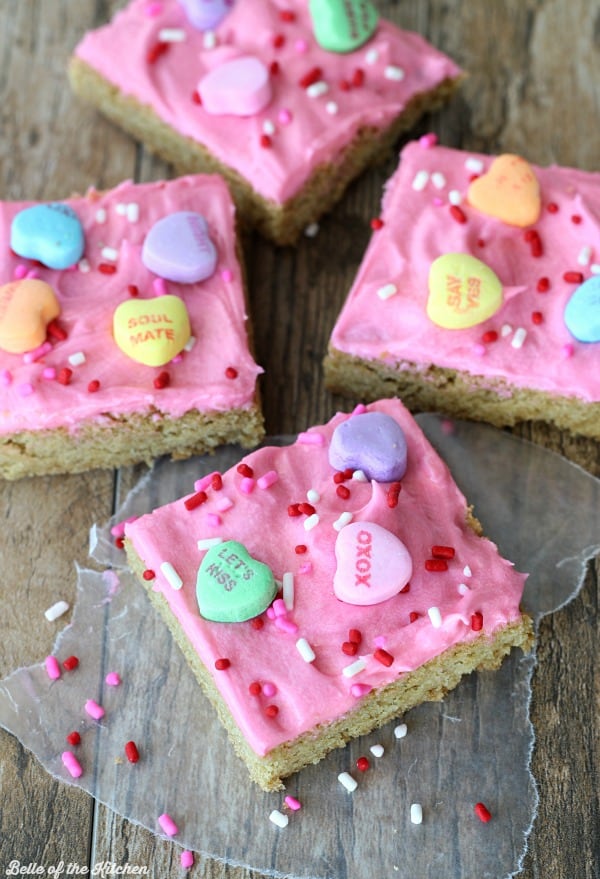 So yes, I really do love Valentine's Day. I know a lot of people think it's another commercialized holiday, but to me, it's all about love. It doesn't just have to be about romantic love, either. It's a great excuse to share some love with your friends, your family, your kids, coworkers, even your dog! Yep, I think our wrinkly bulldog might even get a couple extra milkbones on Sunday.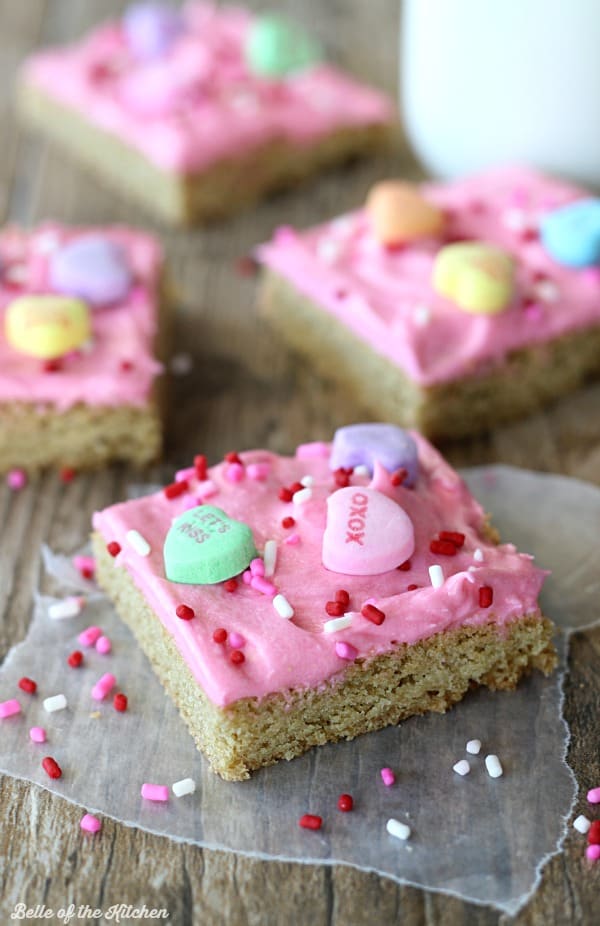 So if you're looking for a special treat to celebrate Valentine's Day, these sugar cookie bars would be perfect! They are a lot easier to make than regular sugar cookies since the dough is baked altogether on a a rimmed cookie sheet, topped with frosting, then cut into bars. I made these with half white sugar and half brown sugar because I am a brown sugar addict. I love the flavor and texture it gives to these bars compared to using all white sugar. The vanilla frosting I made to go with these is my go-to frosting recipe. I like it on just about anything! But you could definitely use store-bought frosting if you're in a pinch. Enjoy y'all!

Frosted Sugar Cookie Bars
Ingredients
Sugar Cookie Bars:
1 cup (2 sticks) unsalted butter, softened
1 cup granulated white sugar
1 cup brown sugar, lightly packed
2 eggs
2 teaspoons vanilla
3 cups all purpose flour
1 teaspoon baking soda
1 teaspoon salt
Frosting:
½ cup unsalted butter, softened
2½ cups powdered sugar
2 teaspoons vanilla extract
2 Tablespoons milk
Instructions
Preheat oven to 350 degrees. Line a 15x10 inch rimmed baking pan with parchment paper or spray with nonstick cooking spray and set aside.
In a large bowl, beat together the butter and sugars until light and fluffy. I let mine beat for about 3-5 minutes. Beat in the eggs and vanilla until smooth.
In a small bowl, sift together the flour, baking soda, and salt. Gradually add dry ingredients to the batter a little at a time, beating over low speed. Batter will be sticky.
Evenly spread batter into prepared baking pan. I greased both of my hands with cooking spray and used them help spread out the batter.
Bake in preheated oven for 20 minutes, or until edges are golden brown. Remove from oven and allow to cool completely.
To prepare frosting: beat together butter and powdered sugar until smooth. Add in the vanilla extract and milk and continue beating. Add in food coloring if desired.
Spread frosting over the top of cooled bars and slice into squares. Enjoy!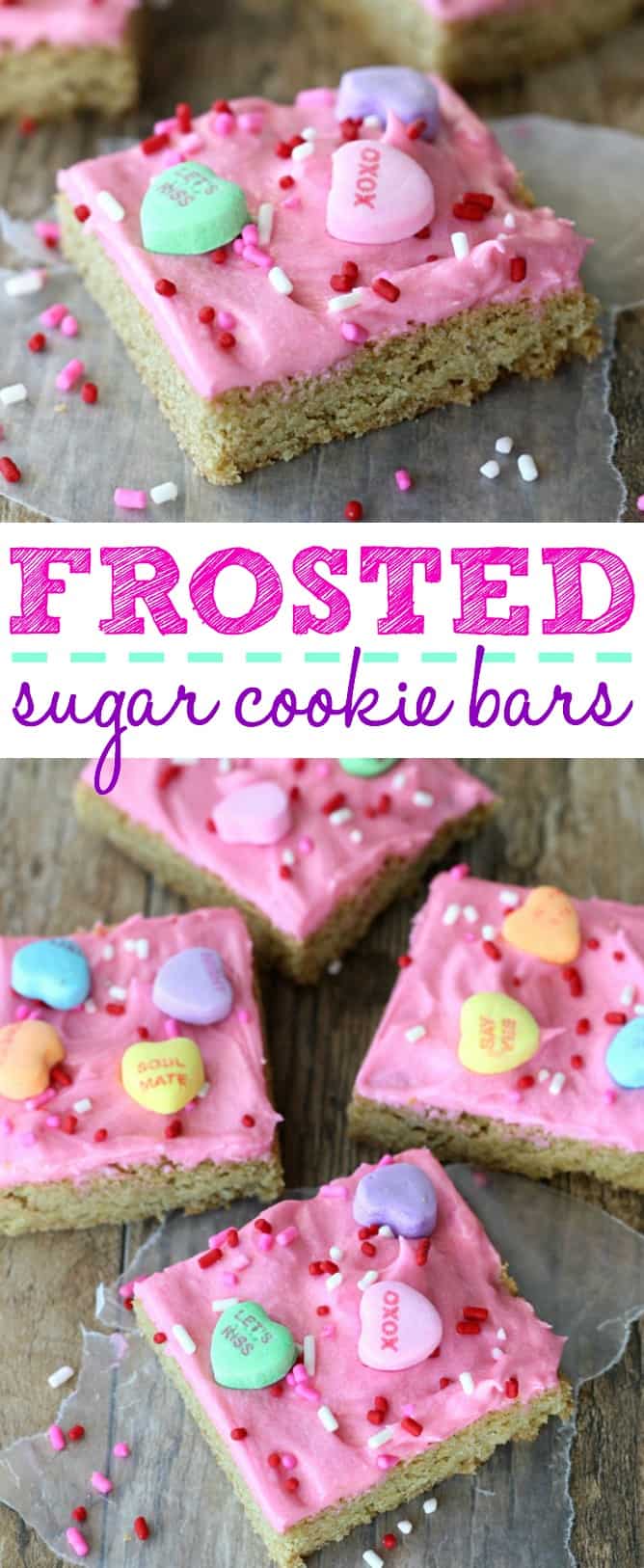 Related posts: