Nutella S'mores Bars – the ultimate s'mores treat filled with Nutella, marshmallow creme, chocolate chips, and a dusting of graham cracker crumbs.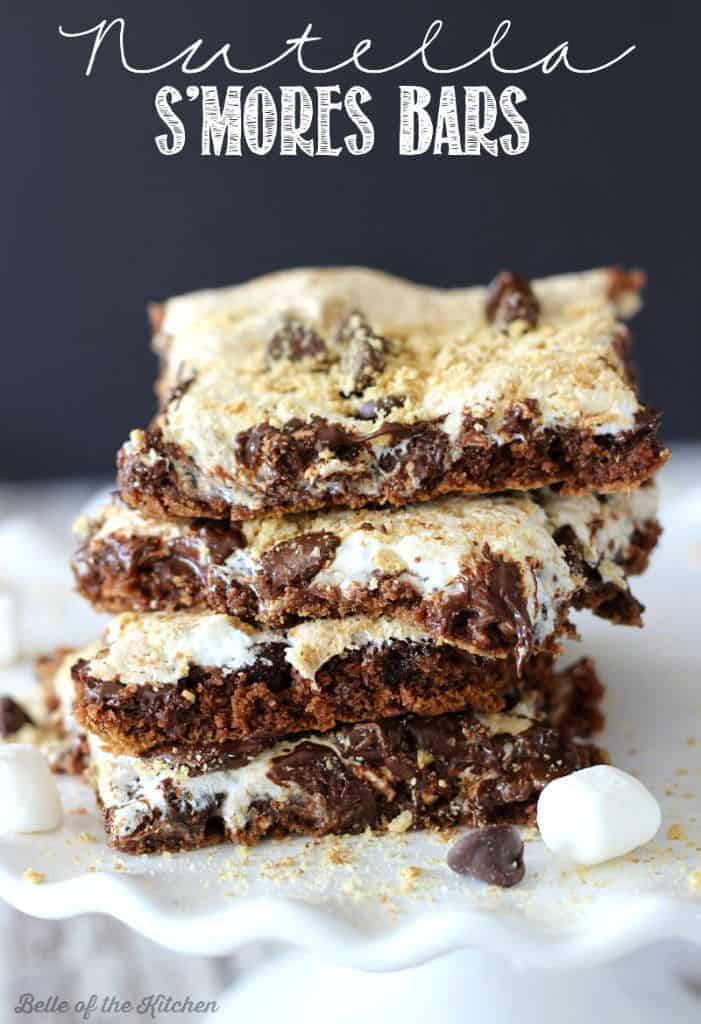 Happy Friday, y'all! Why not celebrate TGIF with one of these Nutella S'mores Bars? They are definitely the perfect way to cap off a long week!
As much as I'd like to join in the Nutella celebration, I'm actually having to take a step back. See, writing today's post and editing today's pictures was INSANELY difficult. Why? Because I'm doing this crazy, ludicrous, sugar depriving, fun-stealing program called the Whole30. Ok ok, I guess it's really not THAT bad… 😉 I'm just in a bit of a sugarless depression right now. And looking at the pictures of these bars (which I made a few weeks ago) and remembering how amazing they taste is just a wee bit hard. Oh, and did I mention that I'm on day 12? Of no sugar? If you've looked around my blog before then you know how challenging this is!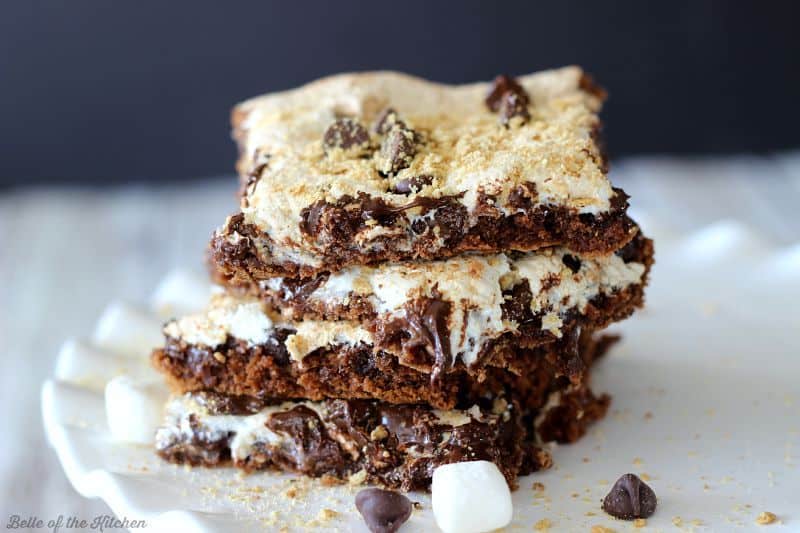 Have you ever heard of the Whole30 before? It's like a jumpstart to healthier eating where you strip your diet of dairy, grains, legumes, and sugar for 30 days. It's supposed to reset your metabolism and help you kick your sugar cravings. The program itself is very similar to Paleo, except you are not allowed to eat any kind of sugar (including natural sweeteners like honey, maple syrup, etc.) nor are you allowed to make or consume foods that are dessert-like, even if they are made with compliant ingredients.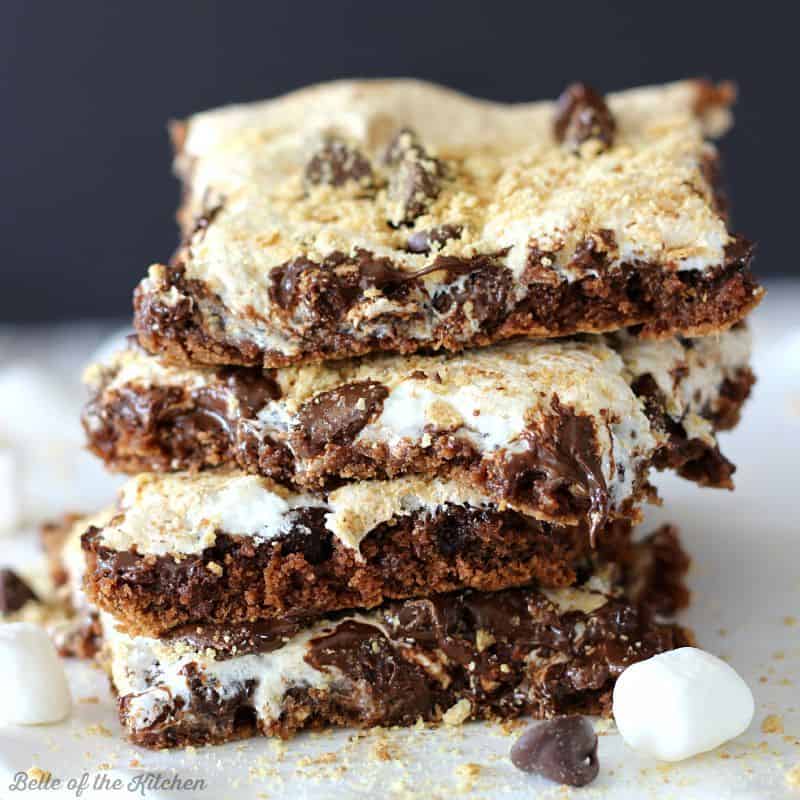 Now, as much as I might complain about the Whole30 stealing my iced coffees and daily doses of chocolate, it really has made a difference already. My hubby and I decided to embark on this crazy adventure together, and we both are feeling better, sleeping better, and noticing our clothes are a bit looser in just 12 days. We are considering sticking to Paleo during the week (Monday through Friday) after this is all over, and having our weekends off to enjoy a little bit of food-freedom. To me, that sounds like a good balance. 😉 SO you might see some Paleo recipes from me in the future! We will see how it all pans out.
But no matter what, I promise to always bring you desserts. With things like butter, sugar, and chocolate. And NUTELLA!
Ok y'all, go on now and eat one of these for me. I'm missing them big time!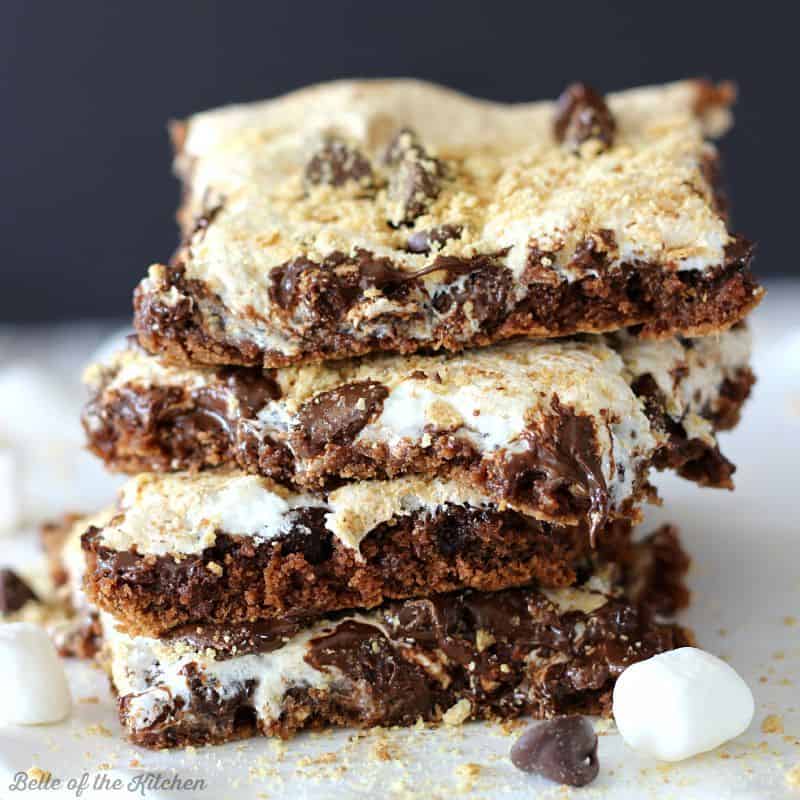 Nutella S'mores Bars
Nutella S'mores Bars – the ultimate s'mores treat filled with Nutella, marshmallow creme, chocolate chips, and a dusting of graham cracker crumbs.
Print
Pin
Rate
Ingredients
1

cup

packed brown sugar

1/2

cup

Nutella

2

Tablespoons

butter,

,

softened

1/2

teaspoon

vanilla extract

2

large egg whites

1 1/2

cups

self-rising flour

1

(7 oz) jar marshmallow creme

1/3

cup

chocolate chips

4-5

graham crackers,

,

crushed
Instructions
Preheat oven to 350. Spray a 9x13 inch pan with cooking spray and set aside.

Combine first five ingredients in a mixing bowl and beat with an electric mixer over medium speed until smooth. Stir in flour by hand, a bit at a time.

Press mixture into prepared pan and spread marshmallow creme over the top. Sprinkle evenly with chocolate chips and bake in preheated oven for 20-22 minutes until lightly browned. Remove from oven and allow to cool slightly. Sprinkle with graham cracker crumbs and allow to cool completely before cutting.
Nutrition
Calories:
206
kcal
|
Carbohydrates:
38
g
|
Protein:
2
g
|
Fat:
5
g
|
Saturated Fat:
3
g
|
Cholesterol:
3
mg
|
Sodium:
46
mg
|
Potassium:
71
mg
|
Sugar:
26
g
|
Vitamin A:
45
IU
|
Calcium:
27
mg
|
Iron:
0.7
mg