This Berry Spinach Smoothie is the perfect healthy way to start your day! It's full of vitamins and antioxidants and tastes amazing, too!
Happy Valentine's Day! I hope you're all enjoying your day and that it's filled with hearts, flowers, love, and CHOCOLATE!
Valentine's fun aside, my kiddos and I have been a little under the weather for the past couple of days.
Sore throats, runny noses, not sleeping well…all of which leads to just feeling plain ole exhausted. This is my baby girl's first time ever being sick. Iit makes me so sad to see her feeling all puny, and listening to her little baby snuffles.
My son is the same way. Whenever he gets sick, it's ALWAYS in his chest. He will wake up coughing and crying, and sometimes we just have to spend the night sitting in the bathroom with the hot water turned on while the steam works its magic. After a night like that, we need a little whole food healing power.
I love smoothies for breakfast during the week, and they're especially great when you're not feeling well and don't have much of an appetite. Even if regular-chewable food doesn't seem all that palatable, a nice cold smoothie is a great way to make sure you're still getting some good nutrition. Plus it's a little easier on a sore throat than your typical breakfast fare.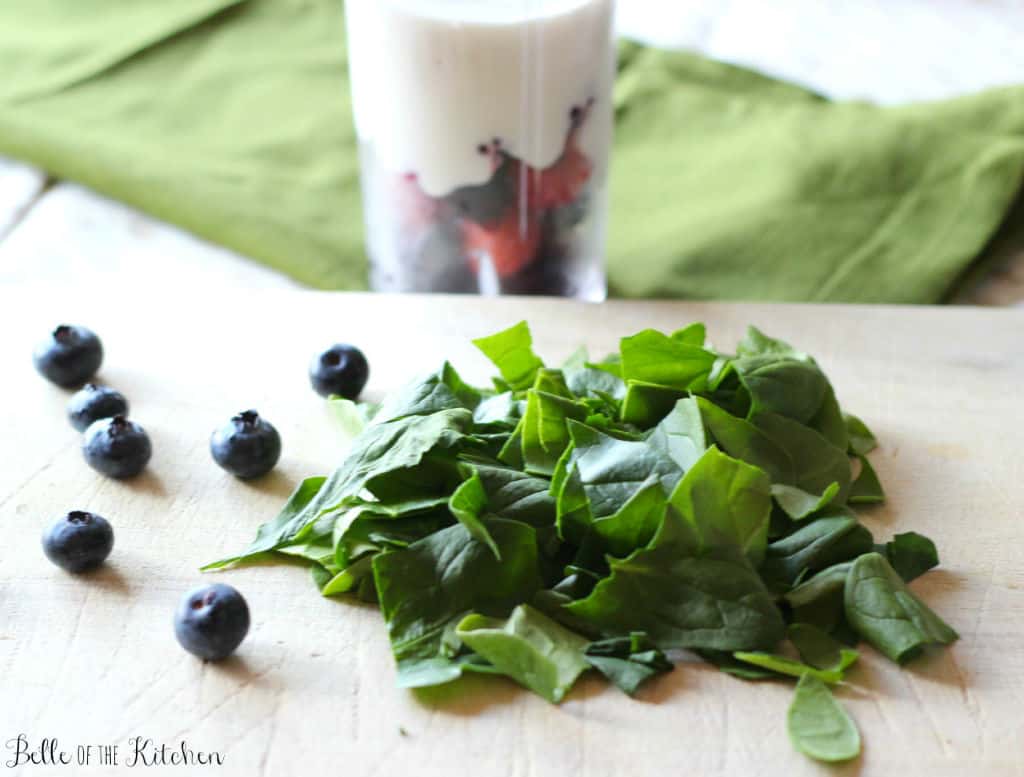 This smoothie is full of good-for-you ingredients and it tastes amazing, too. This one is especially well-liked by my 3 year old who, as a matter of fact, ate the ENTIRE container-full of blueberries while I was taking photos.
I'm not even joking. I told him he could have a few, and I watched him take a handful and then go sit down at the counter. He was so quiet, and I had gotten all sucked into playing around with the camera settings, that I didn't even notice him sneak the little clamshell package over to his seat.
I looked up to find an empty plastic shell sitting in his little blue-dyed hands, and a guilty grin on his face. Now I'm a little concerned that he may turn into a blueberry. Or at least develop a slightly blue undertone. I guess only time will tell…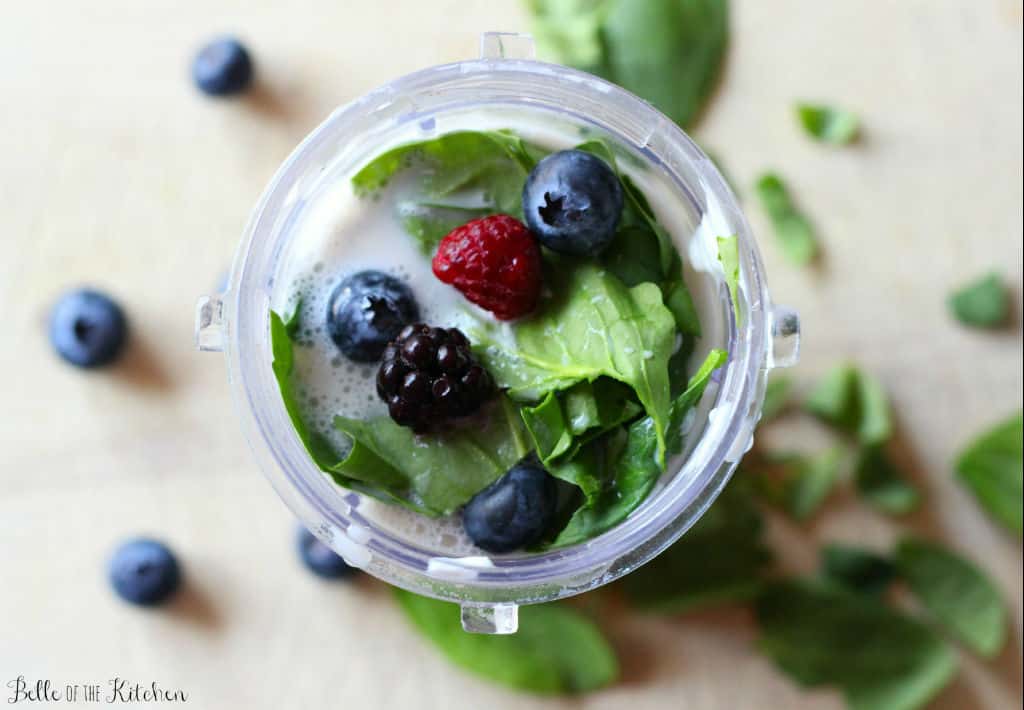 Hope this finds you in happy, healthy spirits wherever you are. And if you've got a little case of the winter sickies, give this smoothie a try. It might just help kick that cold to the curb.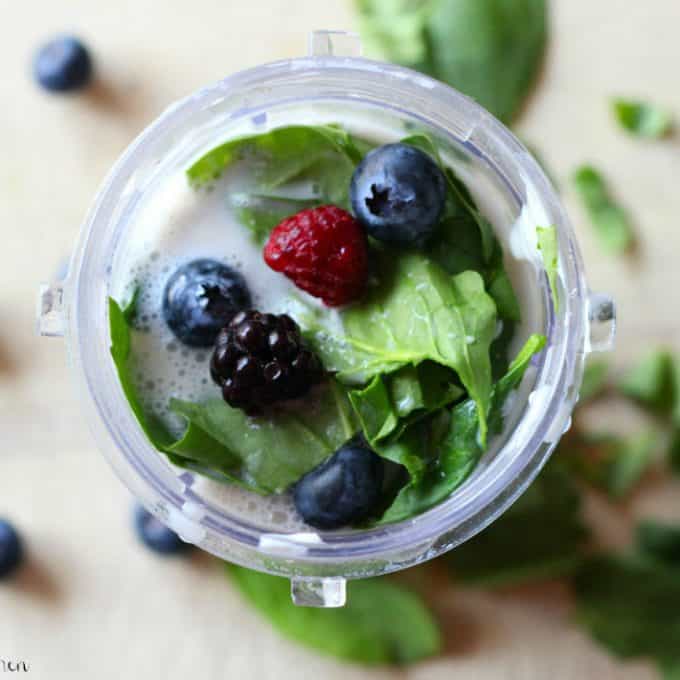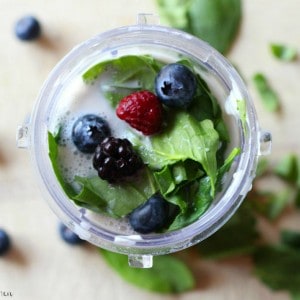 Berry + Spinach Smoothie
This Berry Spinach Smoothie is the perfect healthy way to start your day! It's full of vitamins and antioxidants and tastes amazing, too!
Print
Pin
Rate
Ingredients
1

cup

frozen mixed berries

,

(I used strawberries, blueberries, raspberries, and blackberries)

1/2

cup

vanilla Greek yogurt

2

large handfuls of spinach

1/2

cup

unsweetened vanilla almond milk

2

tsp.

Chia seeds

,

(optional, but they're such a great superfood!)
Instructions
Place all ingredients into blender and blend until smooth. You can add more ice or almond milk to achieve a desired consistency, but I find that the listed amounts of ingredients produce a really great smoothie texture.
Nutrition
Calories:
249
kcal
|
Carbohydrates:
40
g
|
Protein:
13
g
|
Fat:
5
g
|
Cholesterol:
3
mg
|
Sodium:
247
mg
|
Potassium:
560
mg
|
Fiber:
9
g
|
Sugar:
27
g
|
Vitamin A:
5700
IU
|
Vitamin C:
20.7
mg
|
Calcium:
284
mg
|
Iron:
2.7
mg
If you like this Berry Spinach Smoothie, then you might also like: