This skillet lasagna is sure to become a new family favorite! It's everything you love about lasagna, but made simple and easy for a quick weeknight dinner!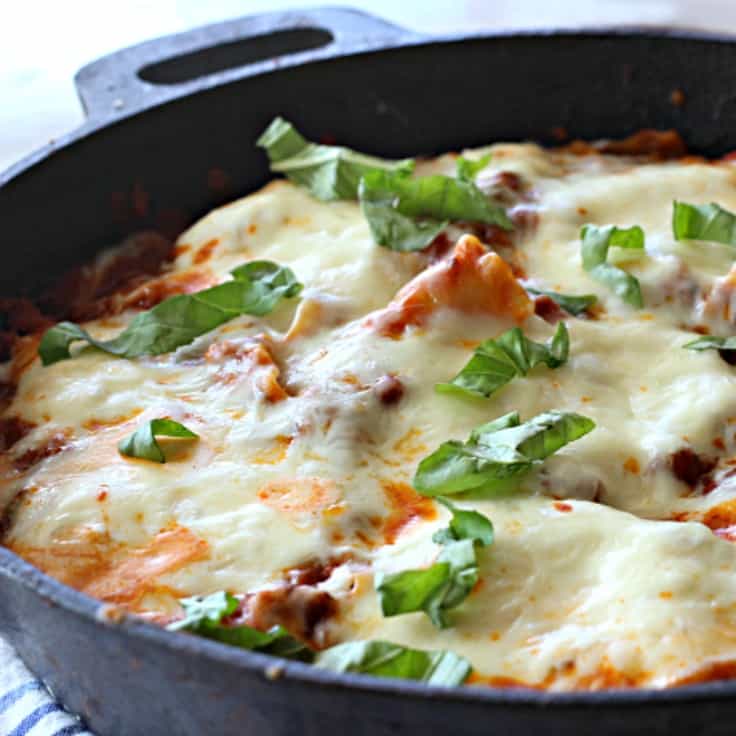 Lasagna is one of my family's favorite foods. It's also one of those meals that gets made for a lot of special occasions, including Christmas Eve dinner. My mom made has made lasagna for Christmas Eve dinner for as long as I can remember, and it was always my number one requested birthday dinner, too.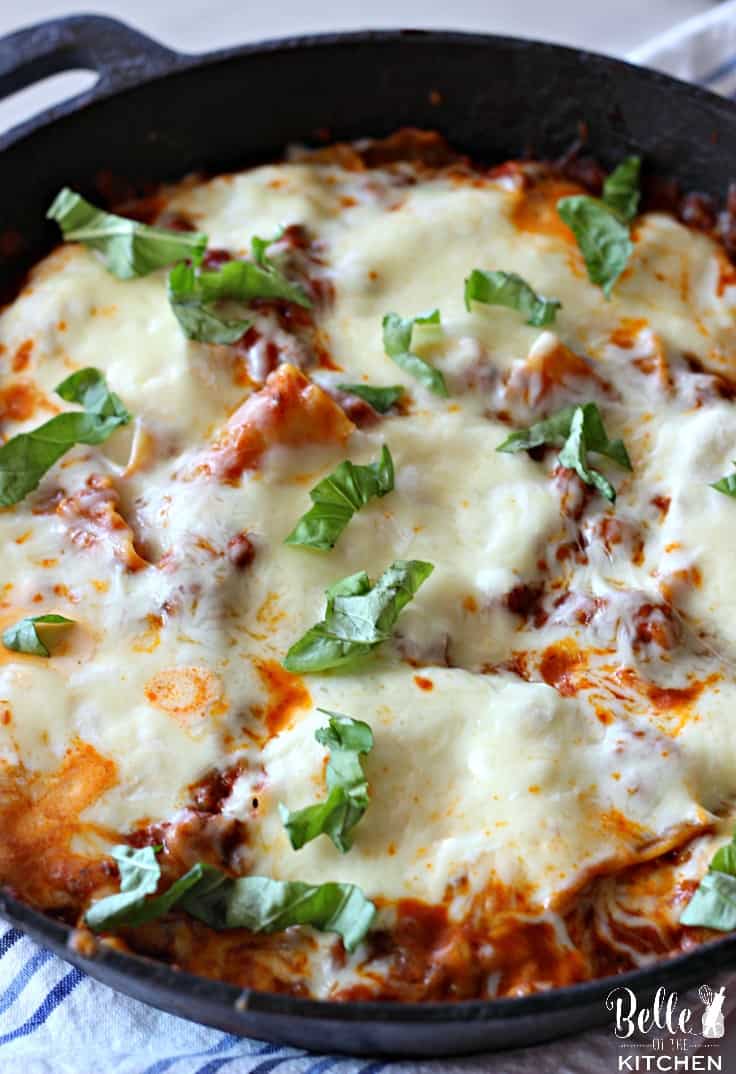 As much as I love lasagna, I don't make it all that often because it takes a little bit more time and effort to prepare. Maybe that's why it's always been reserved for special occasions. 😉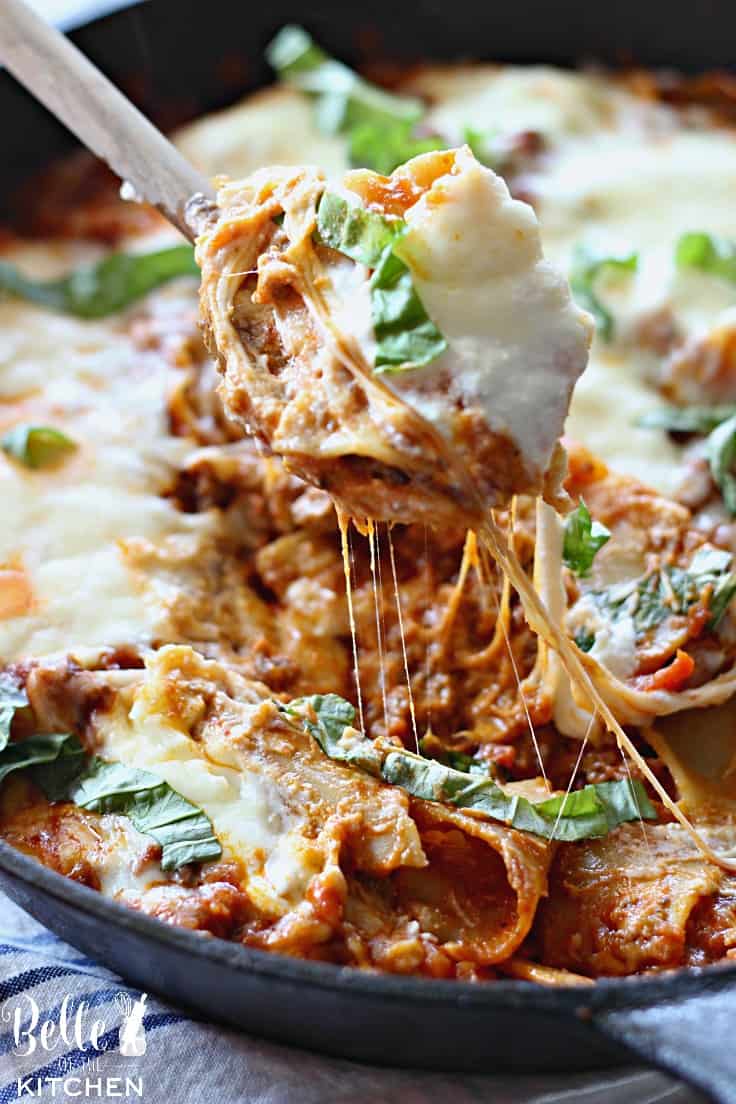 Just because I'm not always in the mood to make it, though, doesn't mean I don't crave it on the random Wednesday night. For all of you lasagna lovers out there, that is where this skillet lasagna swoops in to save the day! One pan, 30 minutes, six ingredients, and you're set! I pretty much followed my mom's lasagna recipe to make this skillet version, and I'm happy to say it's delicious! If you have no-boil lasagna noodles, that would work best here, but I've made it with regular noodles and it just takes a few minutes longer for those to cook.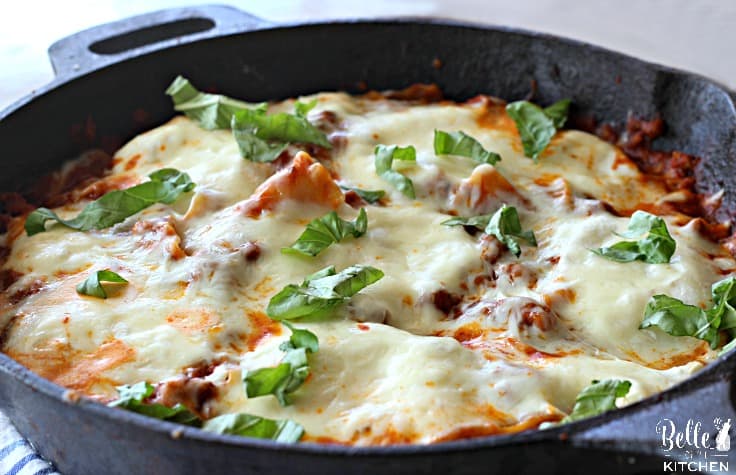 I originally shared this Garlic Parmesan Roasted Asparagus over at Kenarry: Ideas for the Home. While I was there, Carrie was visiting here and sharing her recipe for Cheesy Tuna Casserole. Go check it out if you haven't had a chance to yet!
Skillet Lasagna Recipe
Ingredients
1 pound mild Italian sausage
1 (24 oz) jar marinara sauce
1 (14 oz) can diced tomatoes with Italian seasonings
6-7 lasagna noodles, broken into thirds
1 cup ricotta cheese
1½ cups mozzarella cheese
fresh chopped basil, optional
Instructions
In a large skillet over medium high heat, cook sausage until browned, breaking apart with with a wooden spoon. Drain any accumulated fat, and add marinara and tomatoes to the pan. Heat until bubbly.
Add broken lasagna noodles to the pan and stir into the sauce making sure noodles are coated. Reduce heat to medium low, cover the skillet, and allow to cook for 15 minutes or until noodles are tender, stirring occasionally.
Drop ricotta cheese in small spoonfuls over the top of the lasagna. Sprinkle with mozzarella cheese, then recover and allow to cook for 3-4 more minutes until cheese is melted and bubbly. Sprinkle with chopped fresh basil if desired, and serve.
Related posts: