These White Chocolate Funfetti Cookies are made with just FOUR ingredients and they are completely addicting! With the help of a cake mix, you can have these ready in no time!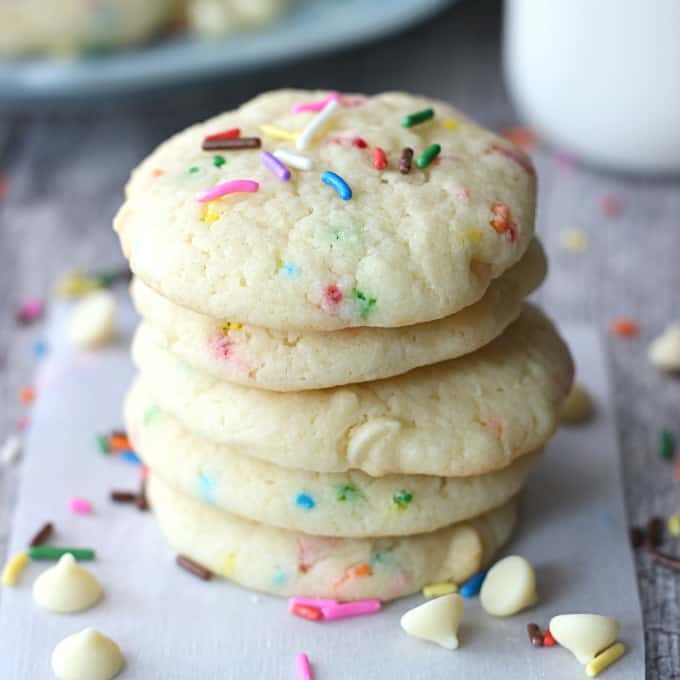 Hey y'all and happy Wednesday! I've got another easy peasy dessert for you today, and all it takes is four ingredients and minimal effort to make. Those are the best kind of recipes, I say!
I know I mentioned to y'all in my Dark Chocolate Brownies post from a couple of weeks ago that I am busy trying to clean out my cupboards before our move. We are moving to Texas next month and the movers won't pack any liquids or perishables, so that means I have a lot of baking to do between now and then! I had a funfetti cake mix sitting on the shelf, along with some white chocolate chips, and some grapeseed oil that needed to be used, so I decided these Funfetti Cookies would be a great way to put them to good use! FYI: since these are made with a cake mix, they are SUPER soft, and more cakey, but they are soooooo good. You won't be able to stop with one!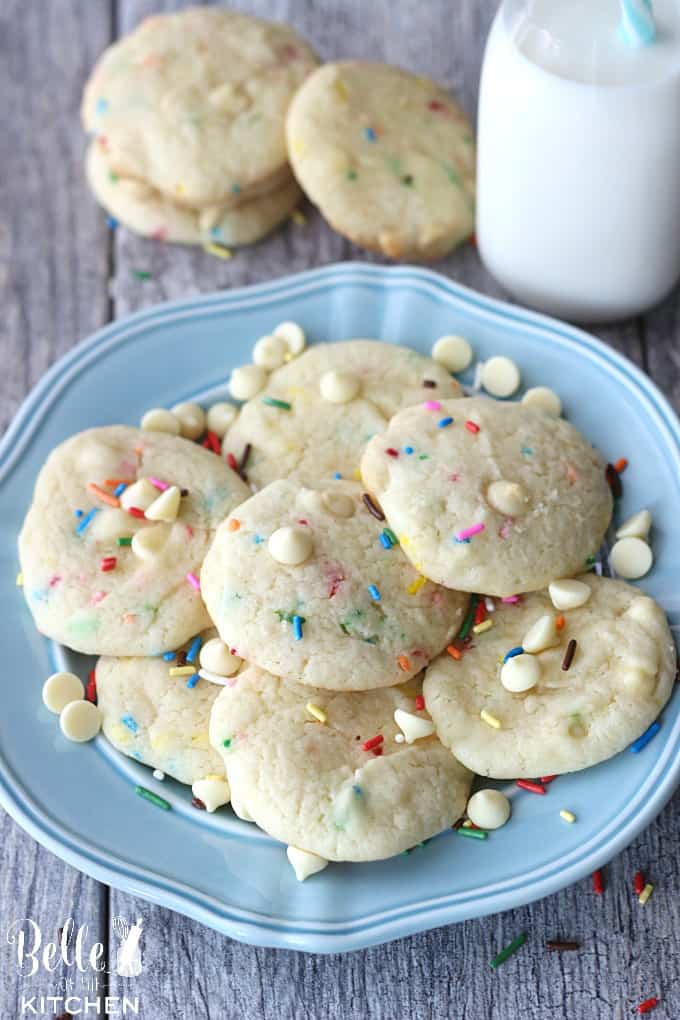 Now if you're wondering how I'm feeling about the move, I'd have to say that I'm a little bit of a mixed bag. I know I talk a lot about how much I miss home (Georgia) and all of our family, but Hawaii has really gotten into my blood. I love the easygoing lifestyle here, and I've really adopted it as my own. I remember joking with some friends a couple of months back about how no one here will look twice at you if it's one of "those days" and you take your toddler into the grocery store in just a diaper, maybe a shirt, and no shoes. One of my friends had gone back for a visit on the mainland and realized real quick that doing that just doesn't fly there! Here, most people walk around in swimsuits or coverups, breezy clothes, workout gear, and slippers (flip-flops) 90% of the time. It's so laid back, and I just love it.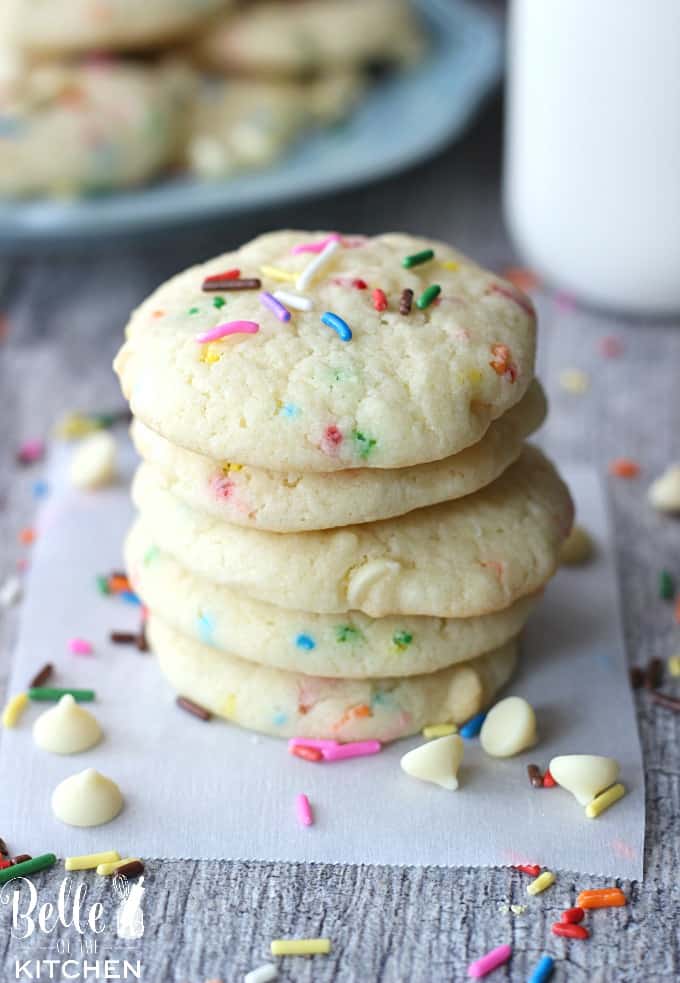 Even though it's going to be hard to say goodbye to Hawaii, I am starting to get excited about our move and going to a new place. We have a fun trip planned this summer to visit our family, and also a surprise vacation to Disneyland for our kids (shhhhh!) So, I have a lot to look forward to. Until then though, I'll just keep bringing you pantry clean out recipes. 😉 Enjoy the Funfetti Cookies, y'all!

White Chocolate Funfetti Cookies
Ingredients
1 box Funfetti Cake Mix
½ cup vegetable oil (I actually used grapeseed oil for this, so use what you have!)
2 eggs
¾ cup white chocolate chips
Instructions
Preheat oven to 350 degrees.
Combine cake mix, oil, and eggs together in a large bowl, mixing until smooth. Stir in white chocolate chips.
Drop dough by rounded tablespoons onto cookie sheets lined with parchment paper. Bake in preheated oven for 10-12 minutes. Cookies won't look completely baked, but that's ok! Remove from oven and allow cookies to cool on the cookie sheet for 1-2 more additional minutes before transferring to a wire rack to cool completely.
Store in an airtight container. Enjoy!

Related posts: