Teriyaki Glazed Salmon Recipe
Teriyaki Glazed Salmon – oven roasted salmon topped with a homemade teriyaki glaze. Packed with flavor and perfect for a simple weeknight meal!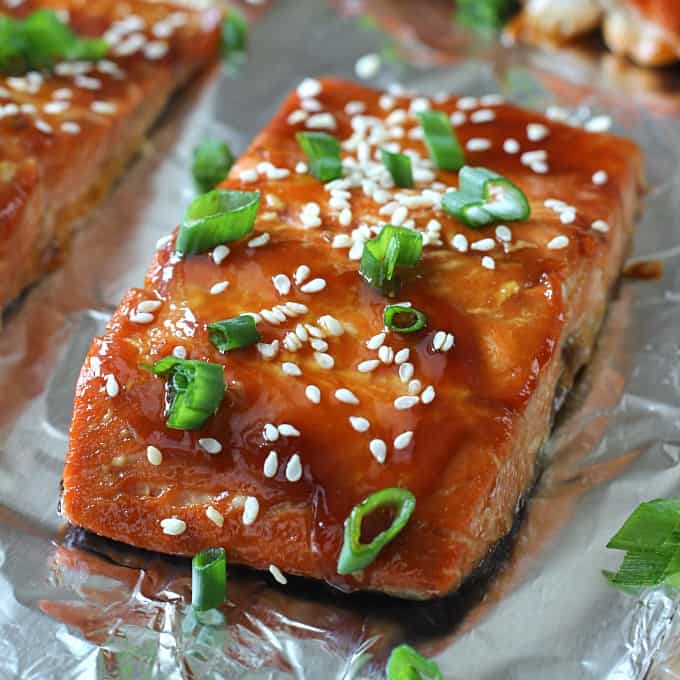 March is just rolling on by, y'all! I have to admit that I am super grateful for that. The quicker time goes by, the sooner this pregnancy is over and the closer we are to meeting our little guy. I am so so SO ready for him! I can't even explain it. For one, my body is totally tapped out. The sickness continues to plague me, and over the past couple of months it has taken on a new form of torture; horrible horrible heartburn!
I had heartburn with my other two babies, but this time (like everything else this pregnancy) it is on a whole different level! I am on Zantac twice a day but it's still not taming it. It's so bad I have to sleep sitting up at night, and that doesn't even seem to remedy it. The past few nights have been particularly terrible and I spent about 3 hours from 1:30-4:30 hanging out on the couch having a pity party for myself because I couldn't sleep. It just has not been fun!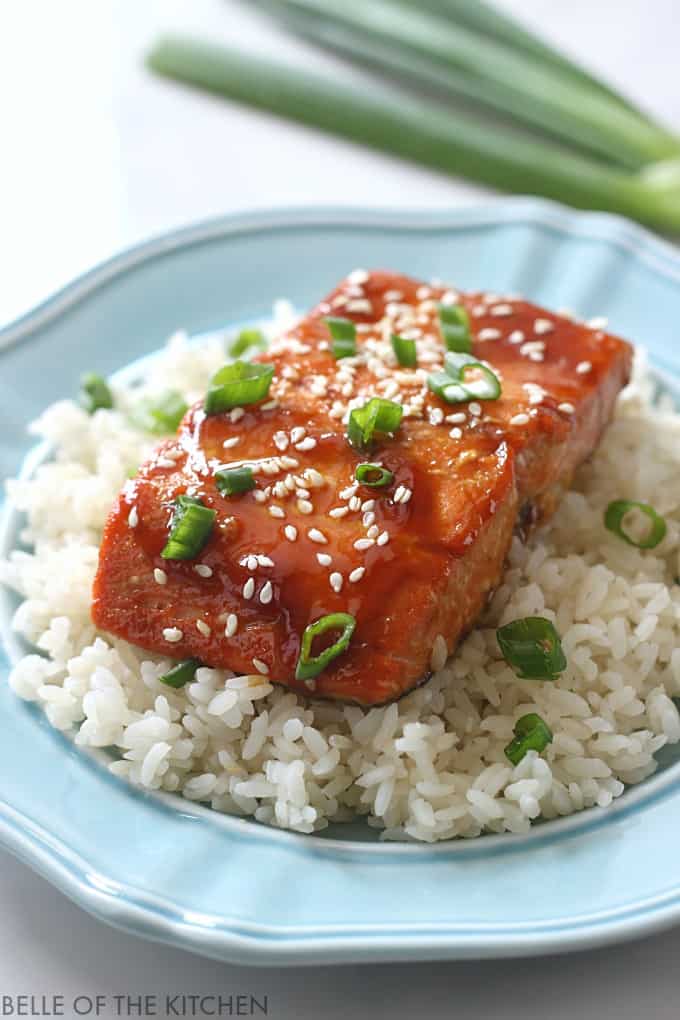 But my excitement to meet our new babe (we still haven't picked out a name for him yet!) goes beyond the hardship of pregnancy. I was definitely excited waiting for my first two babies, but I also felt a panic and fear over balancing everything as we got closer to the end of pregnancy with both of them. This time, I feel much more calm in that aspect. Of course that will probably change once he's here and my hands are triple full, haha!
But for right now, I just fantasize about holding him and snuggling him, and the feeling of completion he will bring to our family. He feels like the final piece of my puzzle, and my heart is struggling to be patient for him. 🙂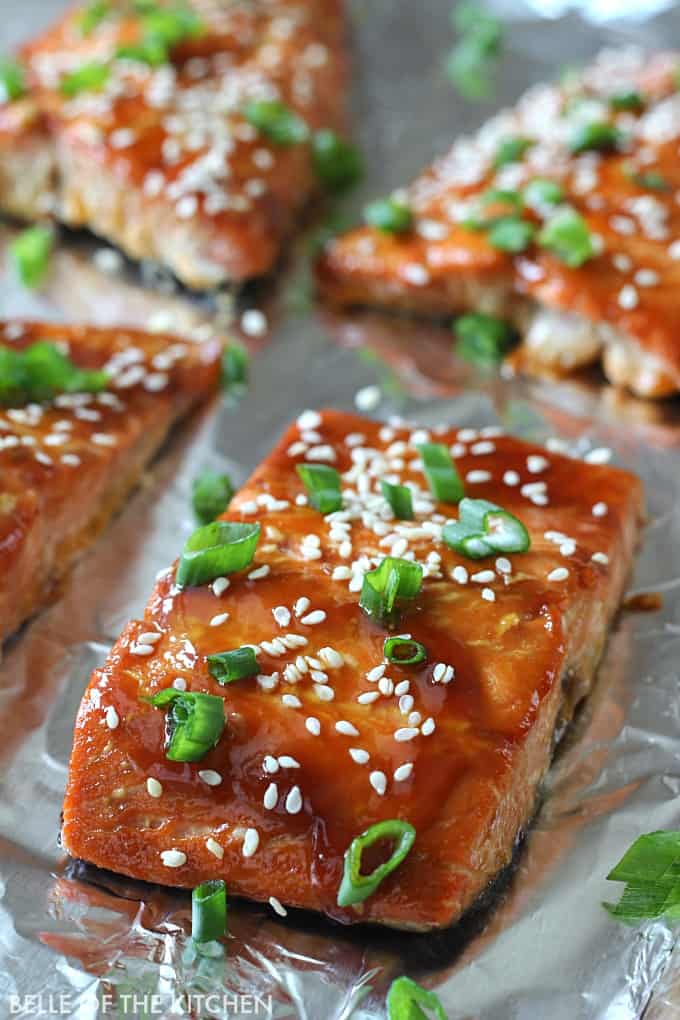 In the mean time, I'm trying to focus some energy into recipes for the blog! This Teriyaki Glazed Salmon is a spin-off of my favorite chicken teriyaki marinade, which I have been meaning to share here forever. I became obsessed with Teri Chicken in Hawaii and we make it a lot at home. I've been trying to eat more seafood lately for the Omega 3's and other good stuff, and decided to try the marinade and I was super happy with the results! Normally it's a thin marinade, so I added a cornstarch/water slurry to help thicken it up for the Teriyaki Glazed Salmon, and it's a winner!
Hope y'all enjoy!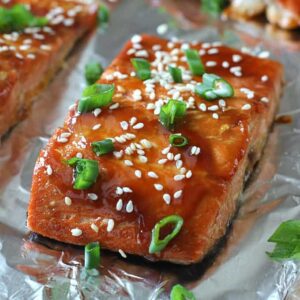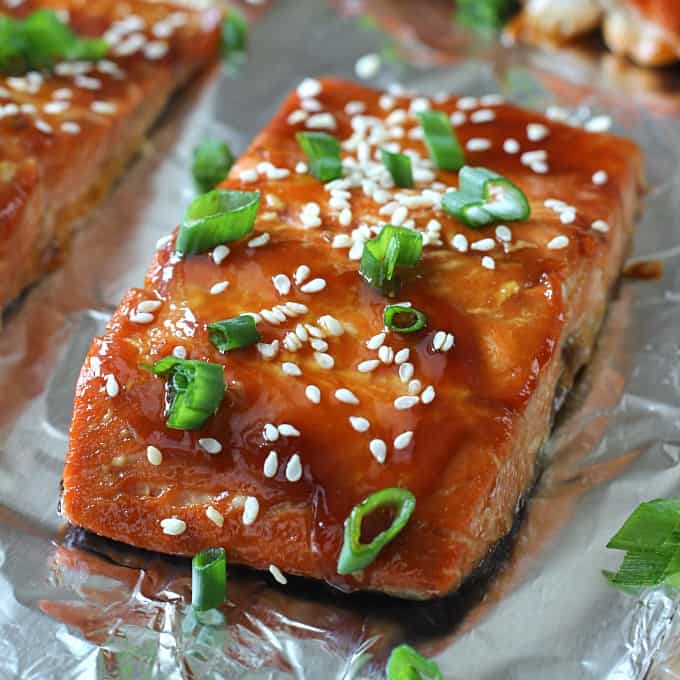 Teriyaki Glazed Salmon
Teriyaki Glazed Salmon – oven roasted salmon topped with a homemade teriyaki glaze. Packed with flavor and perfect for a simple weeknight meal!
Ingredients
1 1/2 - 2 pounds salmon fillets
1/2 cup soy sauce
1/4 cup brown sugar
1/2 tsp minced ginger
2 cloves garlic,, minced
1/2 Tablespoon rice wine vinegar
6 oz. pineapple juice
1 Tablespoon cornstarch
2 Tablespoons water
sliced green onions,, for garnish
sesame seeds,, for garnish
Instructions
Preheat oven to 400 degrees. Line a rimmed cookie sheet with aluminum foil and spray with nonstick cooking spray. Set aside.

In a small sauce pan, combine soy sauce, brown sugar, ginger, garlic, and rice wine vinegar and bring to a simmer over medium-low heat. Stir and cook for five minutes.

In a small bowl, combine the cornstarch and water, mixing well. Add to the pan along with the pineapple juice, and allow mixture to return to a simmer. Continue cooking for 5-10 more minutes until mixture thickens and coats the back of a spoon. Remove from heat and allow to cool slightly.

Pat salmon fillets dry with a paper towel and place on the prepared cookie sheet. Spoon glaze generously over the tops of each fillet. You will have some left over!

Place pan in the upper half of the oven and cook for 10-12 minutes. Remove pan from oven and add a small amount of leftover glaze to the top of each fillet. Turn oven broiler to high and broil the salmon for an additional 2-3 minutes.

Garnish with sliced green onions and sesame seeds. Enjoy!
Calories: 344kcal, Carbohydrates: 22g, Protein: 37g, Fat: 10g, Saturated Fat: 1g, Cholesterol: 93mg, Sodium: 1700mg, Potassium: 968mg, Sugar: 18g, Vitamin A: 70IU, Vitamin C: 4.7mg, Calcium: 46mg, Iron: 2.3mg

If you like this Teriyaki Glazed Salmon, you might also like…
Bruschetta Tilapia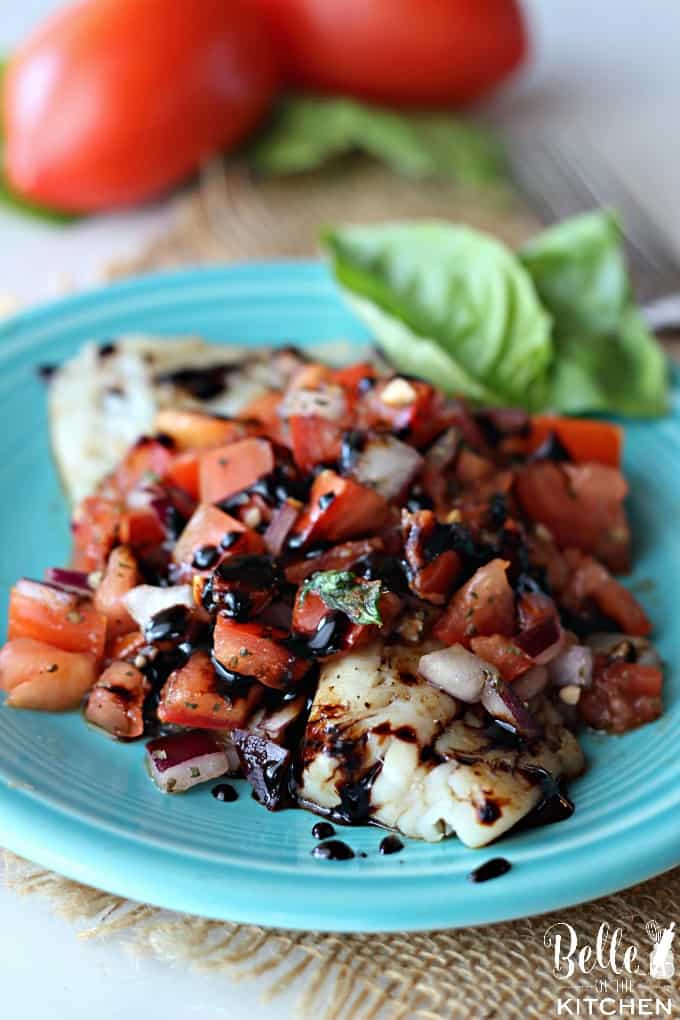 Parmesan Pesto Tuna Melts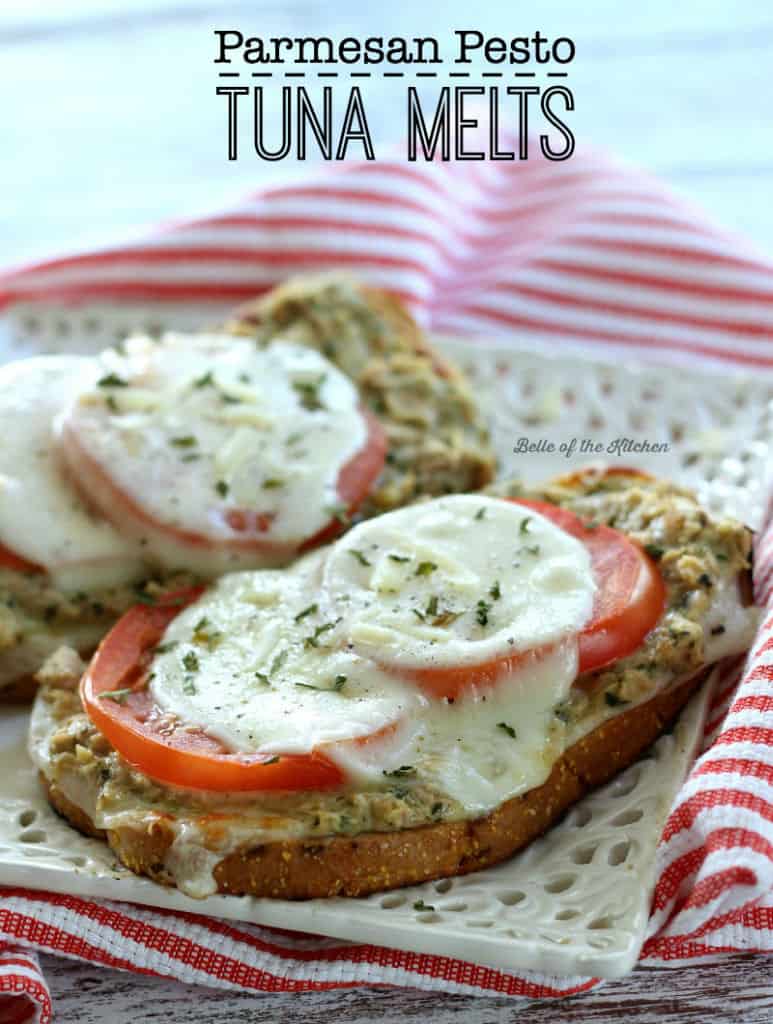 This site contains affiliate links, if you make a purchase through them, we receive a small commission.