This Watermelon Lemonade is delicious and refreshing on a hot summer day. Plus with only 4 ingredients, it's easy to make so you can get back to relaxing!
Do you have a favorite summer time drink? When I was pregnant with my daughter last summer, lemonade was my drink of choice. I craved it like crazy! It kind of took the place of my favorite iced coffees. Though I wasn't quite able to completely give those up… 😉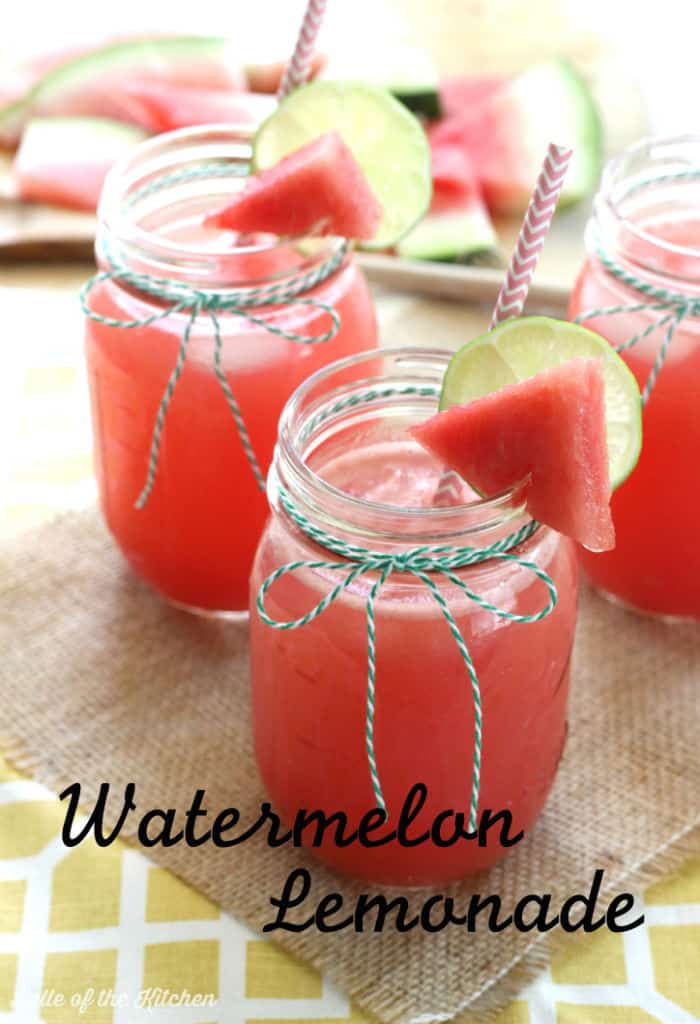 While good old fashioned lemonade always seemed to hit the spot, I started experimenting with other flavors. I was eating a lot of watermelon, and had tried out a Watermelon Agua Fresca, which is basically just pureed watermelon and cold water. I have to be honest, I just wasn't crazy about it. It was ok, but I was just wanting something a little bit sweeter.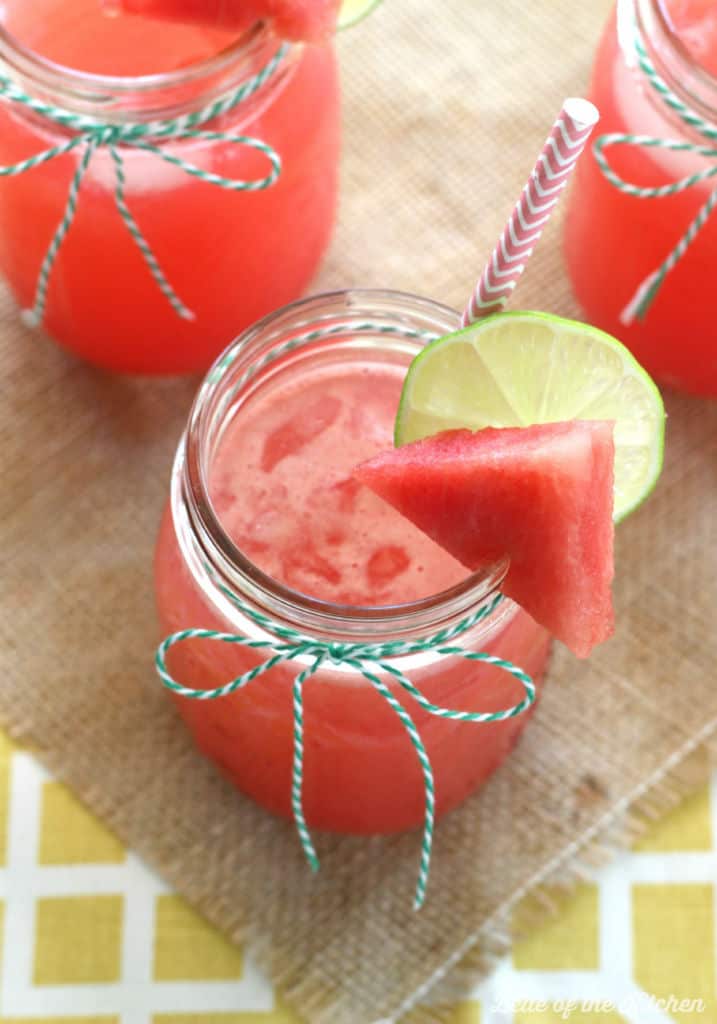 I suddenly realized that watermelon lemonade seemed like a really awesome combination! And ya know what? It really is!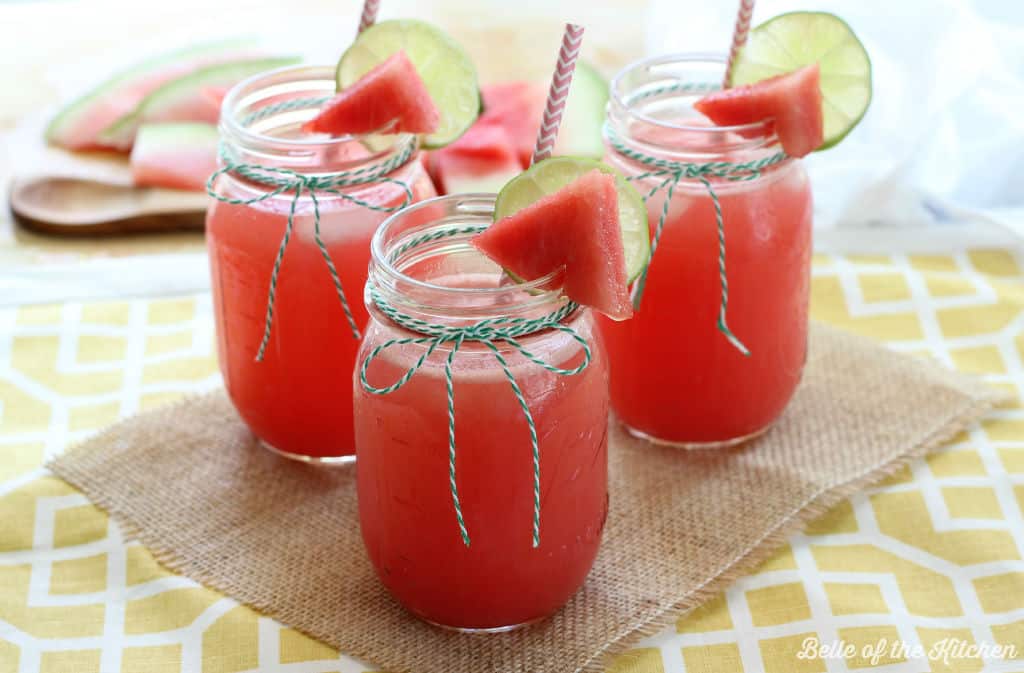 This is another VERY simple recipe. Those are my favorite kinds here at Belle of the Kitchen.

You just need watermelon, lemon juice, sugar, and water. Some ice cubes are great, too. Oh, and a fun straw. That's a very important ingredient!

All you do is blend some chopped watermelon and lemon juice together in your blender till nice and smooth. Add it to a large pitcher with some sugar and cold water, and stir. That's it! Told ya it was easy.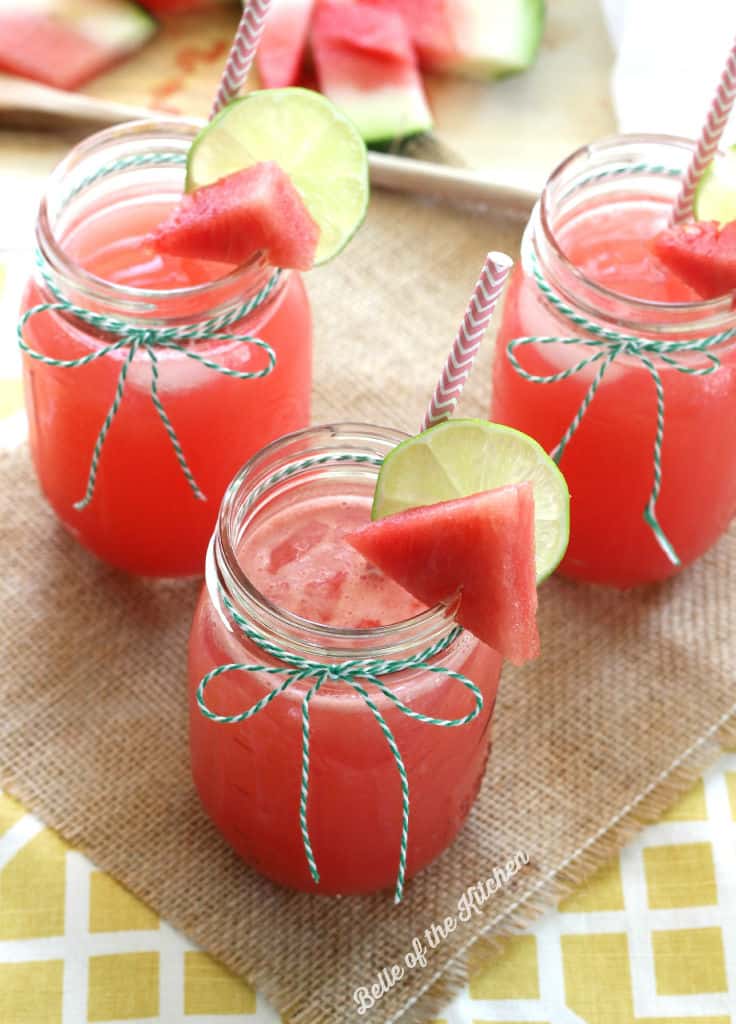 You can definitely strain your watermelon after you blend it, but I chose not to. Mine was blended really well and I had zero little chunks. Plus, straining would make this recipe complicated. And like I said, this is all about easy!
Hope you're having a great week, and can sit back and enjoy a little Watermelon Lemonade. It's a nice way to relax this summer.

Watermelon Lemonade
Ingredients
4 cups watermelon, chopped
1½ cups lemon juice
½ cup sugar
6 cups cold water
Instructions
Blend together chopped watermelon and lemon juice in blender until very smooth.
Pour into large pitcher. Add sugar and cold water and stir well.
Pour over ice and enjoy!

If you like this Watermelon Lemonade, you might also like these recipes….