Cheesy Hot Corn Dip – The ultimate appetizer filled with corn, cheese, and touch of chipotle. This dip is ALWAYS a hit and there is never any left over! It's incredibly easy to throw together, too. MAKE THIS and I know you will LOVE it!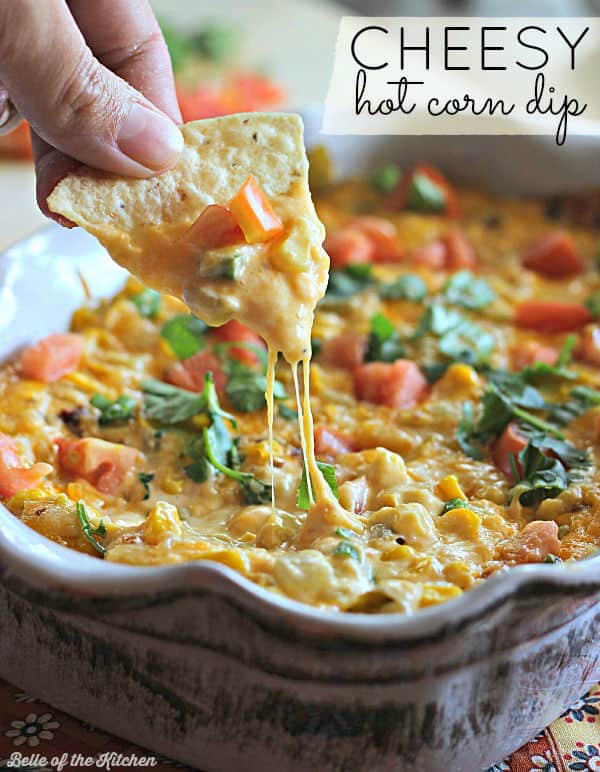 Since this is my first recipe to share with y'all in the new year, I really wanted to start things off with a bang! I'm telling y'all right now that this Cheesy Hot Corn Dip is going to absolutely knock your socks off. OH YES. This is the ultimate, my friends!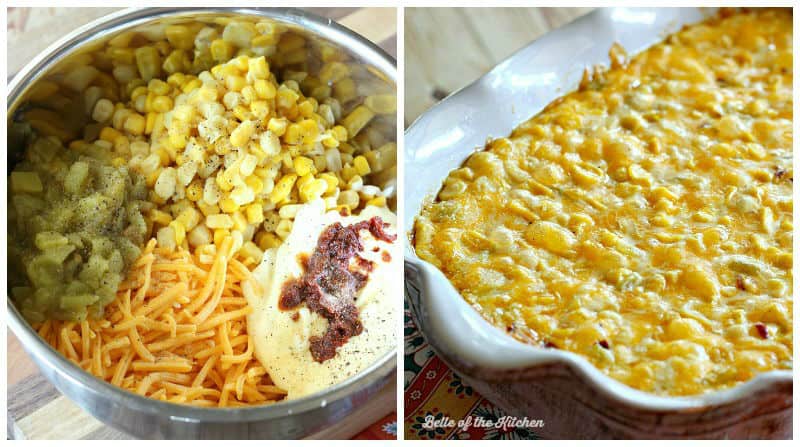 I got this recipe from a coworker when I was teaching a few years ago. I started making it for game nights with our neighbors when we were stationed at Fort Riley and it was always a big hit. I had kind of forgotten about it until one of my old neighbors messaged me and asked me for the recipe, and I decided it was high time to start making it again! I've made it four times in the past month for different holiday gatherings and there was never any left to take home!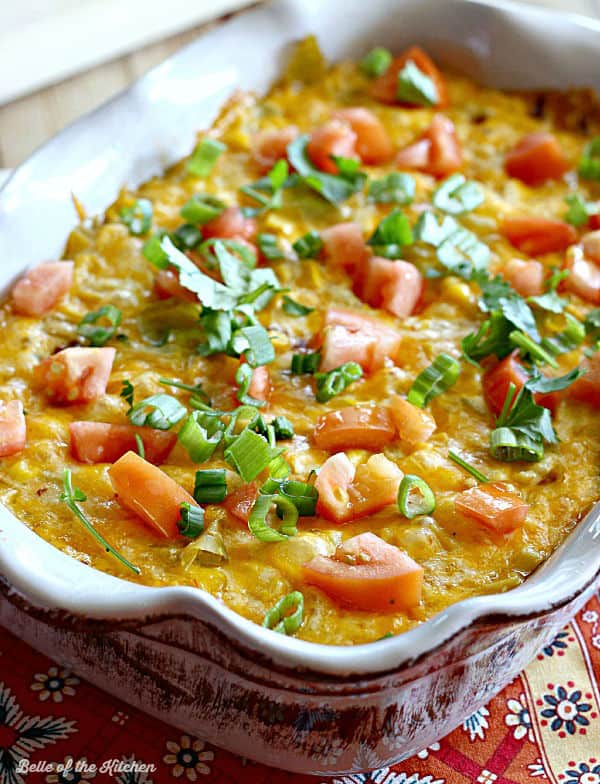 This dip gets a little kick from the chipotle pepper, but I promise it's not too spicy. I remove all of the seeds from my chipotle pepper by cutting it open and scraping them out. You can leave the seeds in if you want it to be spicy (that's where the heat is) but my brood can't handle too much. 😉 This would make an awesome appetizer for a Super Bowl party. I'm telling you, just MAKE THIS! Your friends and family will love you for it!

Cheesy Hot Corn Dip
Ingredients
1 (11 oz) can of corn, drained
½ cup mayonnaise
1 (4.5 oz) can chopped green chiles
1 whole chipotle pepper in adobo sauce, seeds removed and chopped
1 tsp adobo sauce (from the can of chipotle peppers)
1 cup shredded monterrey jack cheese
2 cups shredded cheddar cheese
½ tsp garlic powder
freshly ground black pepper, to taste
1 small tomato, chopped
2 green onions, thinly sliced
2 TB fresh cilantro, chopped
Instructions
Preheat oven to 350 degrees. Grease a baking dish with cooking spray.
Combine corn, mayonnaise, green chiles, chipotle pepper, adobo sauce, cheeses, garlic powder, and pepper in a medium sized bowl and mix well. Pour into the prepared baking dish and spread evenly with a spatula.
Bake for 20 minutes in the preheated oven until hot and bubbly.
Top with chopped tomatoes, green onions, and cilantro. Serve with tortilla chips. Enjoy!

Related posts: