My little man went and turned four on me last week.
How has time gone by so fast?! Seems like just yesterday I was watching him crawl for the first time towards the dog food bowl (yes, that is what prompted his first crawl!) and now I'm watching him ride his first big boy bike.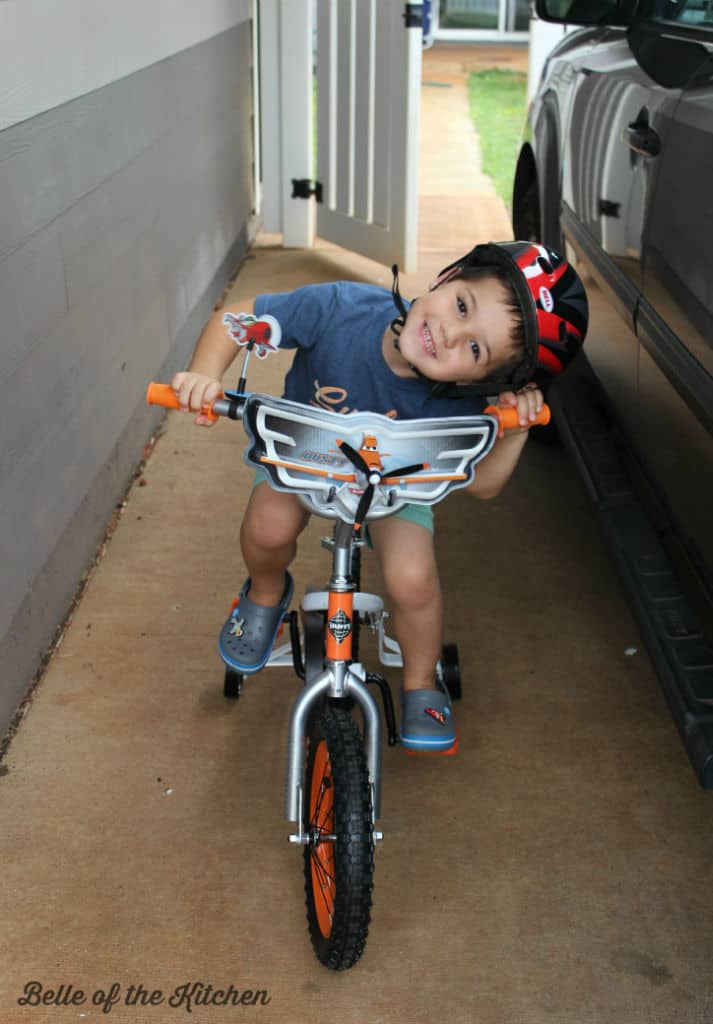 That's my birthday boy on his new prized possession, looking way too big for my heart to handle. Seriously, time. Let's just slow it down, okay?!
We are celebrating his birthday this weekend with a puppy themed party, because his favorite thing in the world besides toy cars and Skippyjon Jones is the furry bulldog we share our house with. Well, her and just about every other dog in the world. He doesn't discriminate when it comes to man's best friend.

In keeping with the party's theme, I thought "puppy chow" would be the perfect treat for goody bags. In case you've never tried puppy chow before, it's an addicting, sweet snack made from crispy cereal (like Chex or Crispix) that's been coated with a chocolate/peanut butter mixture and dusted with powdered sugar. The only problem with this traditional recipe, though, is the peanut butter since our son is allergic. I considered using almond butter or Sunbutter, but then I remembered that gloriously decadent PB substitute: NUTELLA!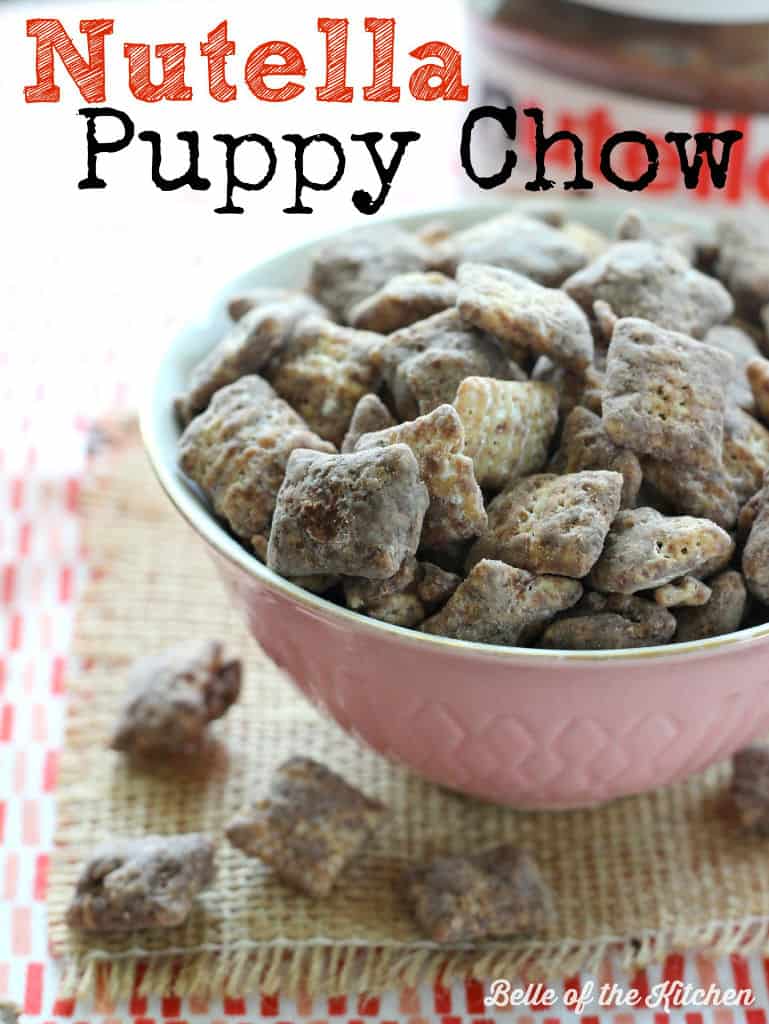 A little search led me to this recipe form Lovin' From the Oven, and I'm so so glad it did! Oh yes, y'all. This stuff is SO GOOD. I made this preliminary batch to test out the recipe before making more later this week for the party, and it has been nearly impossible for me to keep my paws (no pun intended) out of it!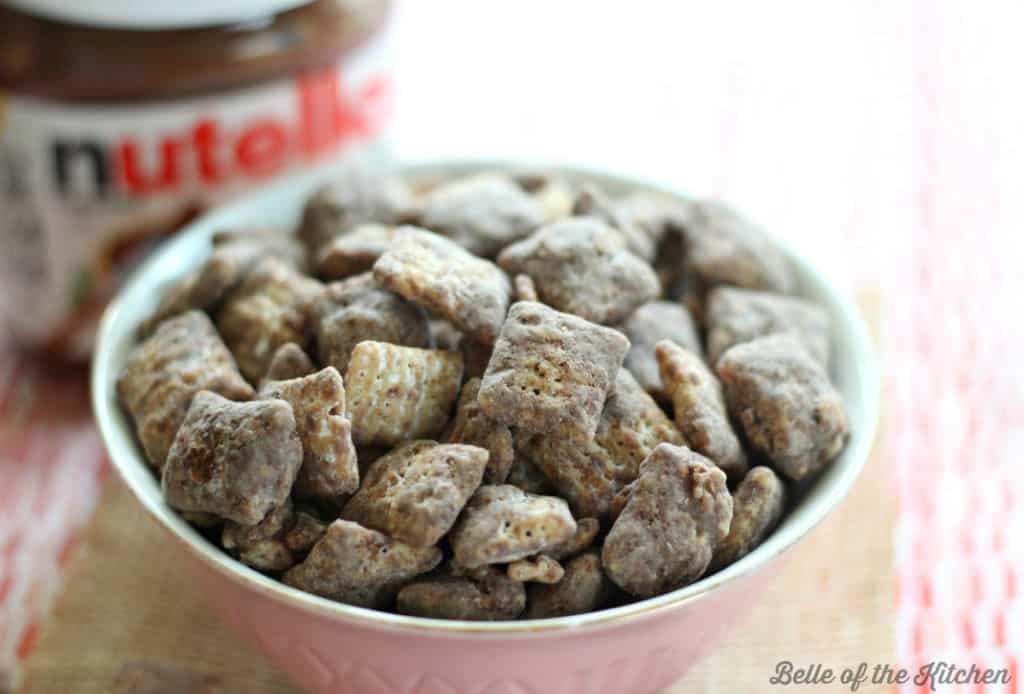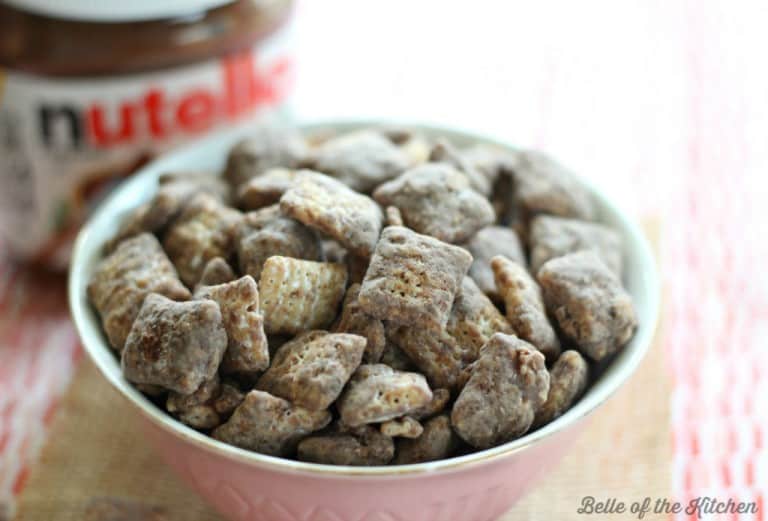 Once you try this, I promise, you are going to fall head over heels in love. I already can't wait to make the second batch and devour some more! Since, ahem, we already plowed through the first batch. But in my defense, I only made half the recipe the first time! 😉
Enjoy! I hope you're having a fabulous week!
Nutella Puppy Chow
Ingredients
½ cup butter
1 cup Nutella
1½ cups semisweet chocolate chips
One 12 oz box Chex or Crispix cereal
2-3 cups powdered sugar
Instructions
In a pan over medium-low heat, melt the butter and chocolate chips, stirring constantly.
When all is melted and smooth, remove from heat and stir in the Nutella.
Slowly pour the chocolate/Nutella mixture over cereal in a large mixing bowl. Use a large spatula to gently coat and mix cereal with the chocolate/Nutella mixture. Keep mixing until evenly coated.
Add the cereal to a gallon sized ziploc bag. Pour in the powdered sugar and shake, starting with ½ cup at a time. You want to make sure everything's coated, but not too sweet! Taste test during this step until you get just the right amount of coating. You probably won't need the full 3 cups of powdered sugar!
Related posts: