Hello, I'm Carrie from Kenarry: Ideas for the Home back again for the second Ideas for the Kitchen exchange, where Ashlyn and I are trading blogs to bring you new recipes and a new voice each month! As we move into cooler fall weather, Ashlyn and I decided it would be a great time to swap slow cooker soup recipes. Today, I'm sharing my recipe for Slow Cooker Loaded Potato Soup packed with bacon, ham and cheesy goodness. Creamy soups like this are a perfect comfort food during the long winters, don't you think?
If you're looking for Ashlyn, you'll find her over at Kenarry today where she's sharing an amazing Crockpot Cheeseburger Soup. She'll share it with you here in a few weeks, but if you're anxious to try it sooner head over to Kenarry: Ideas for the Home to check it out!
In Michigan, where we live, we're starting to break out the winter coats, boots, scarves and hats as we prepare for the long winter ahead. With our preparations, we're also breaking out our slow cookers and trying new recipes to warm us up! I don't know about you, but I especially crave soup recipes this time of year. This recipe for Slow Cooker Loaded Potato Soup combines all the flavors you love in a hearty soup fit for the whole family. It's loaded with tons of ham, big chunks of potato, diced onions, shredded cheddar cheese and of course topped with crispy bacon. Isn't everything better with bacon?
With two small kids at home, slow cooker recipes make my days so much easier. I love simple recipes like this, where you just throw it all in the slow cooker or crock pot in the morning and let the delicious aroma fill the house by dinner time. The only extra step for Slow Cooker Loaded Potato Soup involves adding cheese, milk and flour about an hour before you're ready to serve it. I learned the hard way if you add milk in the morning, it separates or curdles over the course of the day. The soup still tastes good, but it doesn't have the smooth, creamy texture you want in a Slow Cooker Loaded Potato Soup.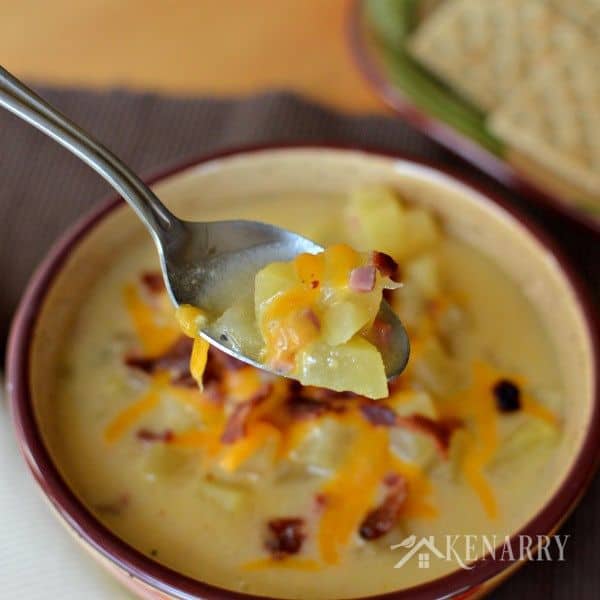 Slow Cooker Loaded Potato Soup
Ingredients
6 potatoes (about 7 cups)
1 onion, chopped (about 1½ cups)
16 oz diced ham
1 can of cream of celery soup (10.5 oz.)
1 can vegetable or chicken broth (14.5 oz.)
1½ cups water
2 teaspoons minced garlic
½ teaspoon black pepper
2 cups shredded cheddar cheese
1 cup milk
1 tablespoon flour
16 oz bacon slices, cooked and crumbled into bits
Instructions
Wash, peel and dice the potatoes. Place in the bottom of a slow cooker.

Add onion, ham, cream of celery soup, vegetable or chicken broth, water, minced garlic and black pepper. Cook on low for 7-8 hours or high for 3-4 hours. You want the potatoes to be tender.

An hour before you're ready to serve the soup, add 1½ cups of the shredded cheese. Whisk together flour and milk in a small bowl and pour into the slow cooker.
Garnish with the remaining cheese and crumbled bacon bits. Enjoy!

Serving Suggestions for Slow Cooker Loaded Potato Soup
This Slow Cooker Loaded Potato Soup is hearty enough to stand alone as a main course for dinner. It goes great with a side salad and a few slices of your favorite bread. You can also top it with oyster crackers, saltines or large croutons.
If you liked this recipe for Slow Cooker Loaded Potato Soup, please share it with your friends or pin it for later: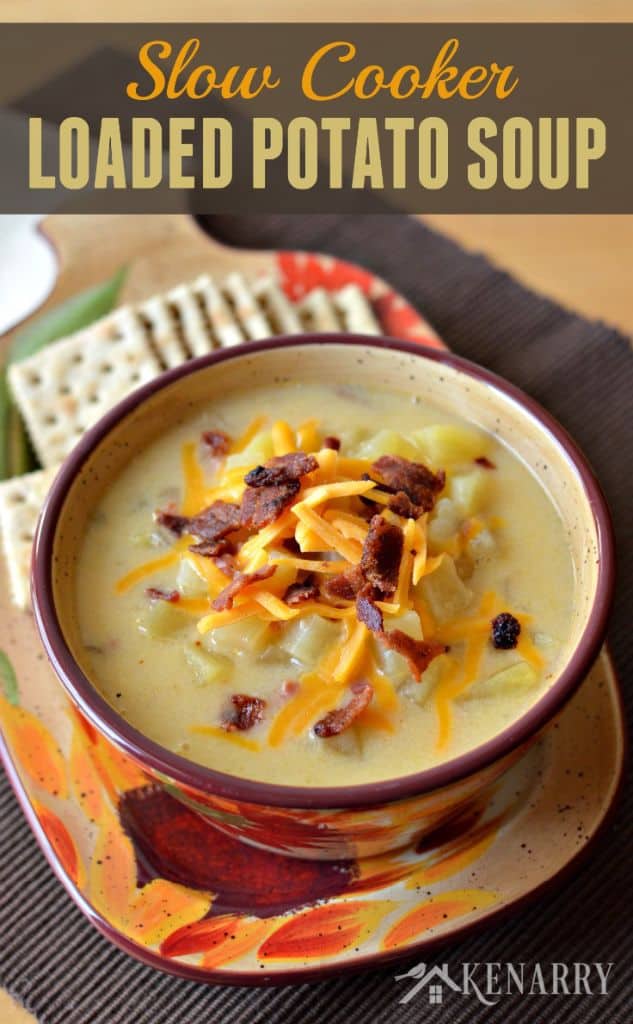 You may also like these Slow Cooker Recipes on Kenarry:
Slow Cooker White Bean and Ham Soup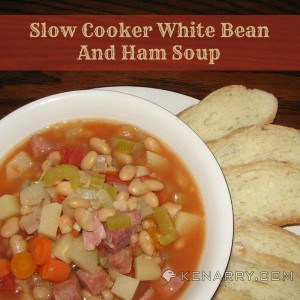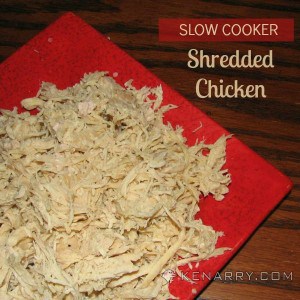 A huge thank you to Ashlyn, for allowing me to trade blogs with her today and share this recipe for Slow Cooker Loaded Potato Soup. I'm excited to be back again next month to share more Ideas for the Kitchen with you. In the meantime, I'd love to know what are your favorite slow cooker soups to warm you up in the winter? Please comment below and share. Ashlyn and I are always looking for new ideas!
About Carrie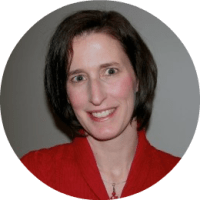 Carrie is a mother of two young boys, who enjoys sharing recipes and trying new craft ideas! At Kenarry: Ideas for the Home, she and her husband share ideas you'll find useful for your home, including projects they've done, recipes they've created, products they love and more. Carrie's passion, though, is volunteerism and connecting people with opportunities to make a difference in their community. You can connect with Carrie via Google+, Pinterest, Facebook, Twitter and Instagram.
Related posts: