Cake Batter Bars
These Cake Batter Bars are chockfull of sprinkles and cake batter flavor! They are easy to make with the help of a cake mix.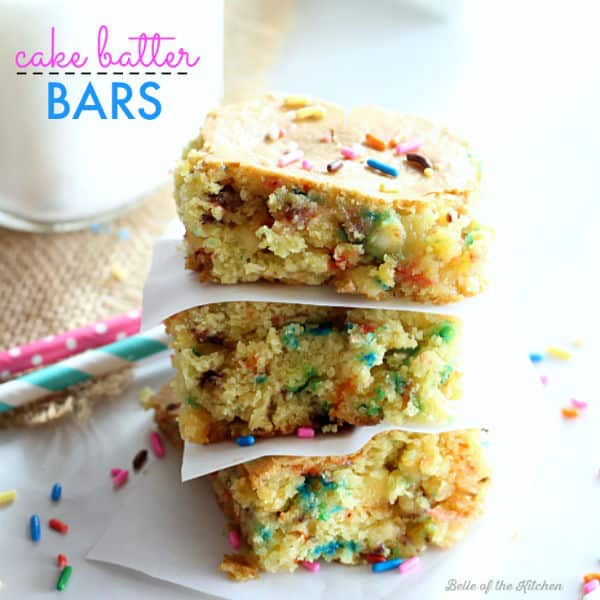 Hey y'all, how's your week going so far? This has honestly been kind of a tough week for my family. It started Saturday when my son woke up in the middle of the night throwing up. It took nearly three days for him to get better, but when Monday rolled around we thought he was well enough to go out to dinner for my birthday.
We made it to my favorite restaurant and were sitting outside waiting when my husband suddenly started to look very flushed. He told me that he wasn't feeling well and that we probably needed to leave right away. We handed back our pager and loaded everyone back in the car to head home. Less than five minutes down the road, my sweet baby girl started throwing up in her carseat. And my husband shortly followed suit.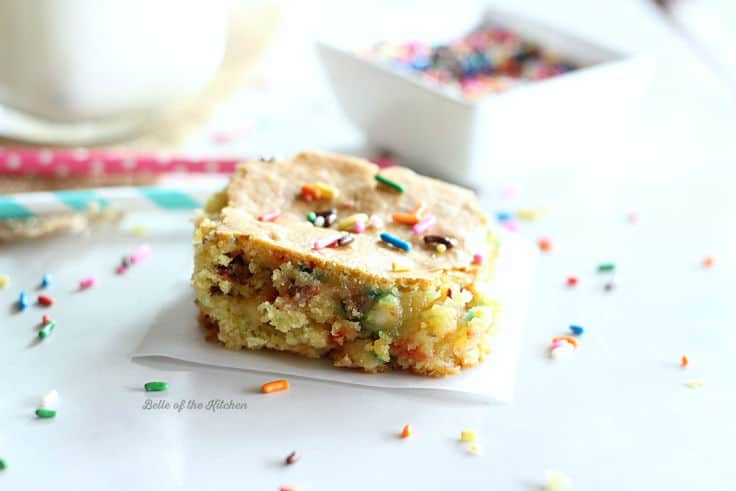 I spent the next couple of days caring for everyone, setting aside birthday and anniversary celebrations for hopefully a less sick day. On Tuesday on my way to pick up our son from school, I got a speeding ticket. I'm still really upset about it because I HONESTLY was not going as fast as he clocked me for. At the most I was going 45, but he claims to have clocked me at 52, which is 17 over the posted speed limit. I NEVER drive that fast. That was our anniversary. 🙁
And just when I thought I had escaped the stomach flu myself, I woke up green at the gills early Wednesday morning. My husband had to go back to work that day, so I had to make do taking care of the kids and dealing with the sickness. Let me just say, I was missing my mama terribly that day. I know if I wasn't so far away she would've been here in a heartbeat to help out.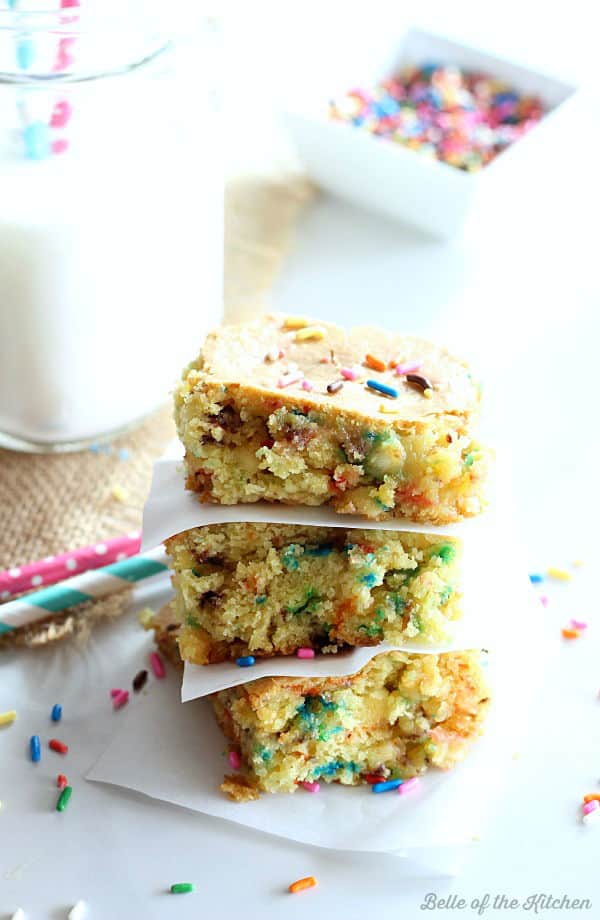 So that's been my week. I'm glad it's almost over! And to celebrate the fact that it's Friday and the week is coming to an end, I've got these fun and delicious Cake Batter Bars for you today. I originally shared these over at Kenarry: Ideas for the Home a couple of weeks ago while Carrie was here sharing her S'mores Chocolate Fudge Cake. Make sure to check it out if you haven't had a chance to yet, it's totally mouth-watering.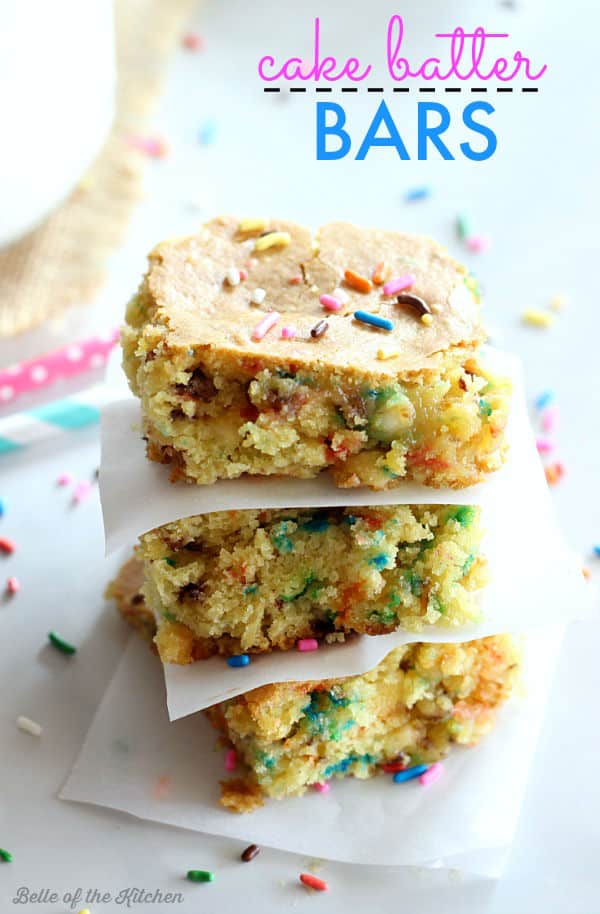 Now if you enjoy the flavor of cake batter, then you are going to love these Cake Batter Bars. They are the epitome of fun, since they are full of colorful sprinkles, plus they are just downright delicious. I make these with coconut oil, which gives them a wonderful texture and flavor. I have to immediately give away about half of the pan every time I make these, or else my husband and I are bound to plow through the entire thing within a 24 hour period. I wish I was kidding!
These would make a perfect birthday dessert for packing in your kiddo's lunch, or for taking to school for class treats. Honestly, they make for a great anytime treat, and I hope you enjoy them. 🙂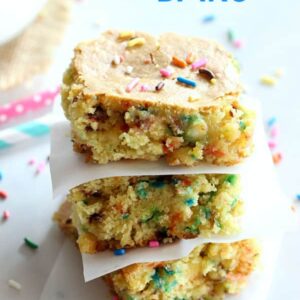 Cake Batter Bars
These Cake Batter Bars are chockfull of sprinkles and cake batter flavor! They are easy to make with the help of a cake mix.
Ingredients
1 box yellow cake mix
1/3 cup sprinkles
1/3 cup coconut oil,, melted
1/3 cup milk
1 large egg
1/2 cup white chocolate chips
Instructions
Preheat oven to 350 degrees. Grease an 8x8 baking pan and set aside.

In a large bowl, combine cake mix and sprinkles. Stir in coconut oil, milk, and egg, mixing well to combine. Stir in white chocolate chips. Batter will be thick.

Spread batter into prepared baking pan. Bake in the preheated oven for 30-35 minutes, or until toothpick inserted in center comes out clean.

Cool on a wire rack before cutting. Enjoy!
Calories: 251kcal, Carbohydrates: 38g, Protein: 2g, Fat: 10g, Saturated Fat: 7g, Cholesterol: 15mg, Sodium: 272mg, Potassium: 52mg, Sugar: 24g, Vitamin A: 30IU, Calcium: 99mg, Iron: 0.8mg
This site contains affiliate links, if you make a purchase through them, we receive a small commission.