Dutch Oven Beef Stew Recipe
This Dutch Oven Beef Stew recipe is hearty and delicious. It's a one-pot meal full of tender chunks of beef, potatoes, and carrots in a rich, savory stew. This is perfect comfort food and is so simple to prepare.
For more comforting Soup and Stew Recipes, be sure to check out my Green Chile Stew, Shrimp and Corn Chowder, and Brunswick Stew Recipe.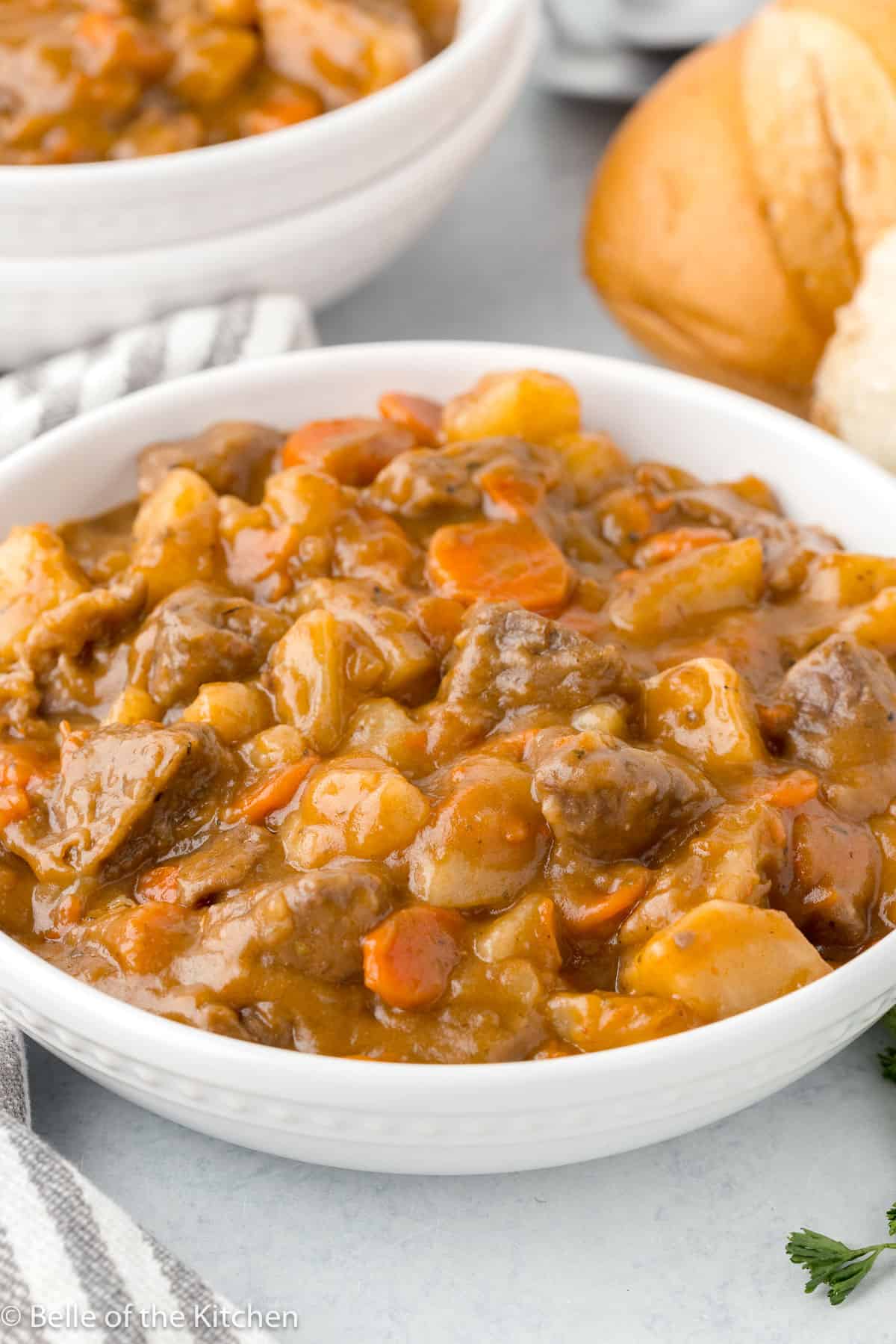 Beef Stew – Perfect Comfort Food
Even though the temperatures haven't dipped much below the 90s here in Texas, I'm dreaming of fall weather and cozy evenings spent tucking into a big bowl of comfort food, like this Dutch Oven Beef Stew. It's truly the epitome of comfort food and is something every member of my family enjoys.
This is a super easy recipe, y'all, and it's full of rich flavor from the tender beef, root vegetables, and spices cooked together in a savory, French onion soup broth.
I love to make it in my enameled cast iron dutch oven, which is the perfect vessel for cooking a hearty, classic beef stew recipe like this at a low and slow temperature for a few hours.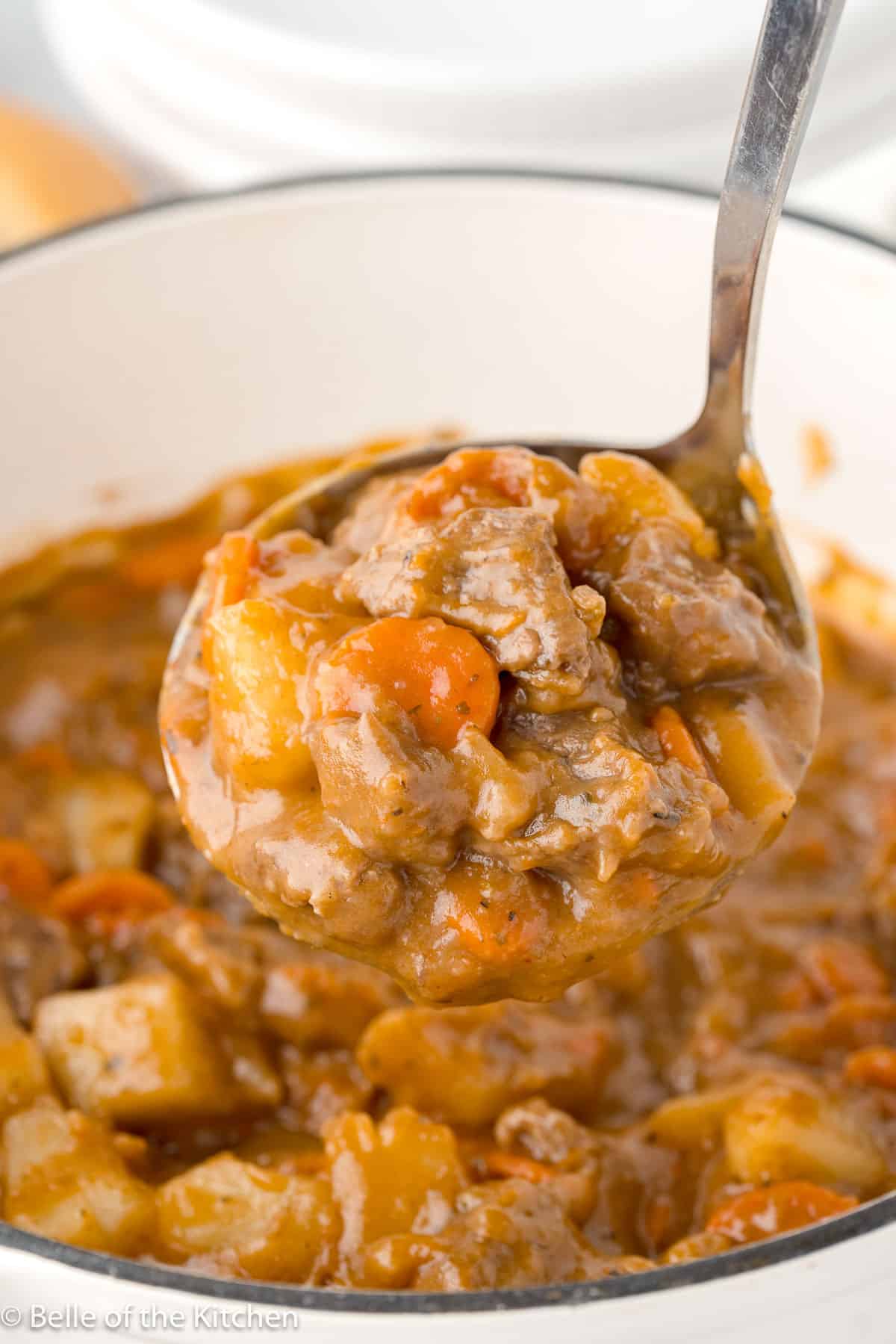 You really only need a handful of ingredients to make this easy dutch oven beef stew, and much of the work that goes into making it is hands-off. The real magic happens when the stew cooks at a low simmer for a few hours, filling your house with that amazing cozy, aroma.
This recipe easily adapts to the slow cooker or Instant Pot, too, in case cooking it on the stove top doesn't work for you and your schedule.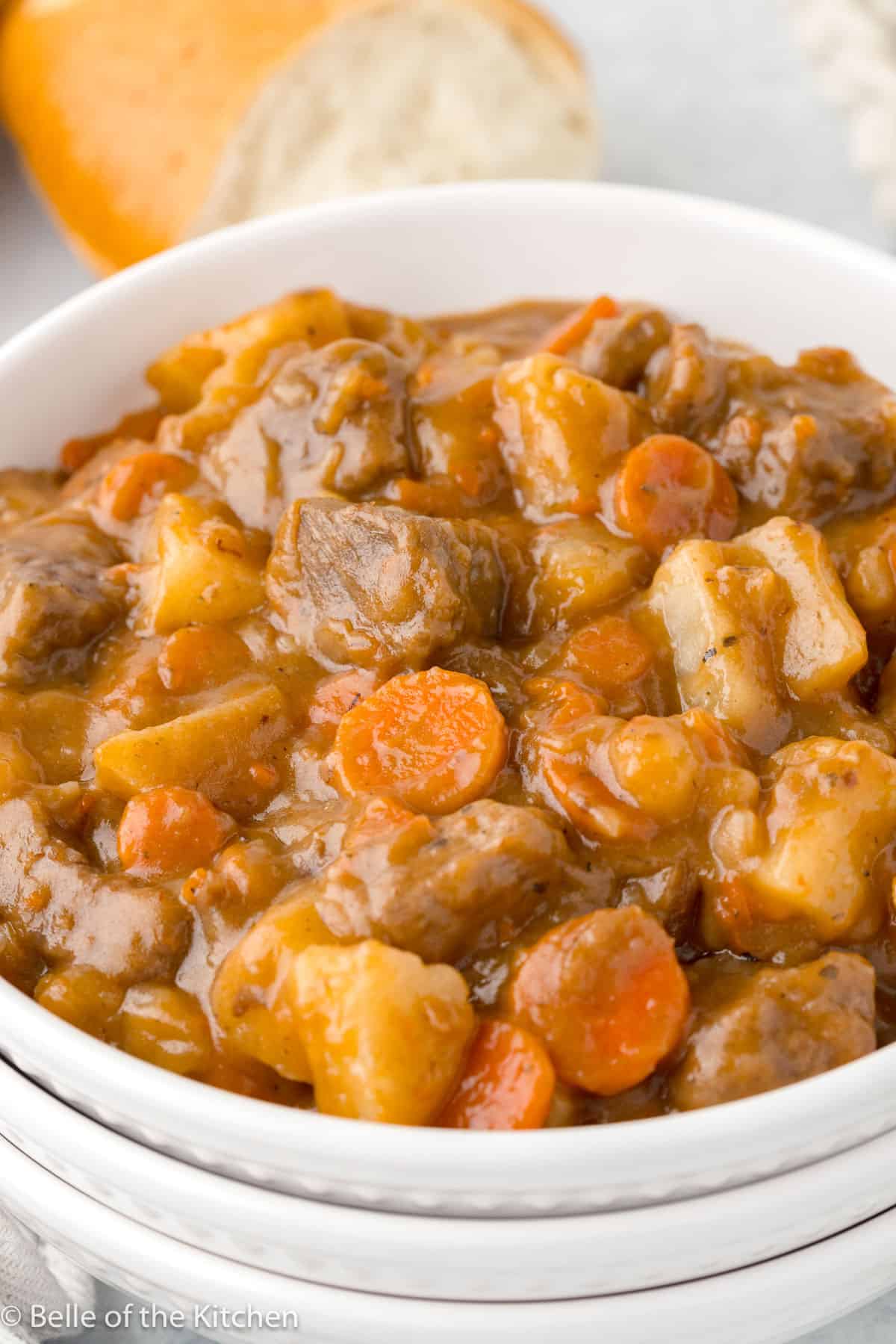 Ingredients for Dutch Oven Beef Stew
Ingredient measurements and full instructions are located in the recipe card below.
beef stew meat, cut into 2 inch chunks
all purpose flour
olive oil
carrots
French onion soup
tomato paste
Spices: garlic salt, black pepper, salt, Italian seasoning, bay leaves
russet potatoes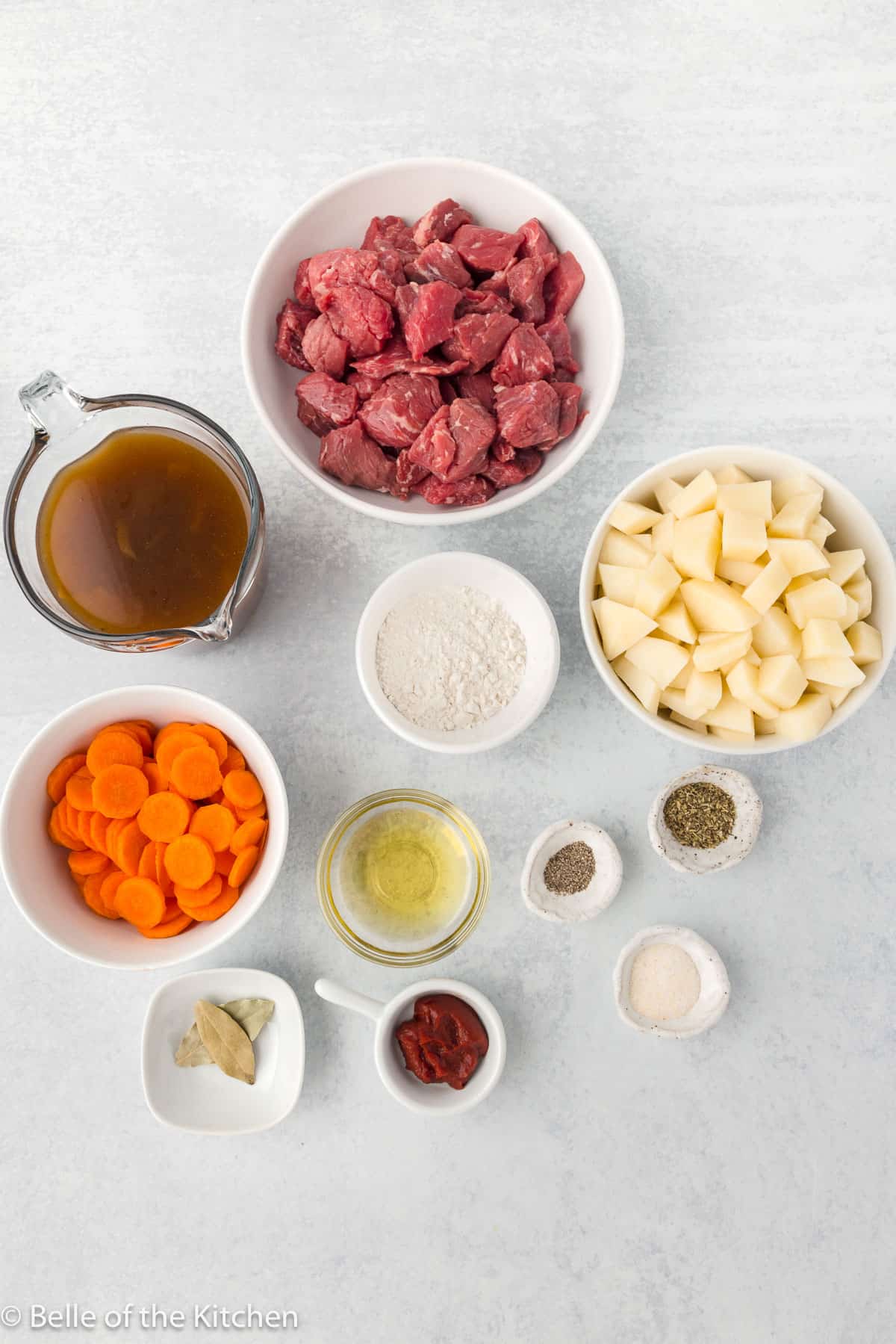 How to Make Beef Stew in a Dutch Oven – Step by Step
Ingredient measurements and full instructions are located in the recipe card below.
In a large bowl, coat the beef stew meat with the flour, garlic salt, and pepper.
Heat the olive oil in a large dutch oven, and then brown the meat over medium-high heat on all sides. Remove the meat from the pot.
Add the carrots to the pot and cook for a few minutes, scraping the browned bits from the bottom of the pot. Add a little water to deglaze the pan if necessary.
Add the browned meat, tomato paste, soup, spices, bay leaves, and then potatoes to the pot and stir.
Cook the stew over low heat, stirring occasionally with a wooden spoon, for 2-3 hours.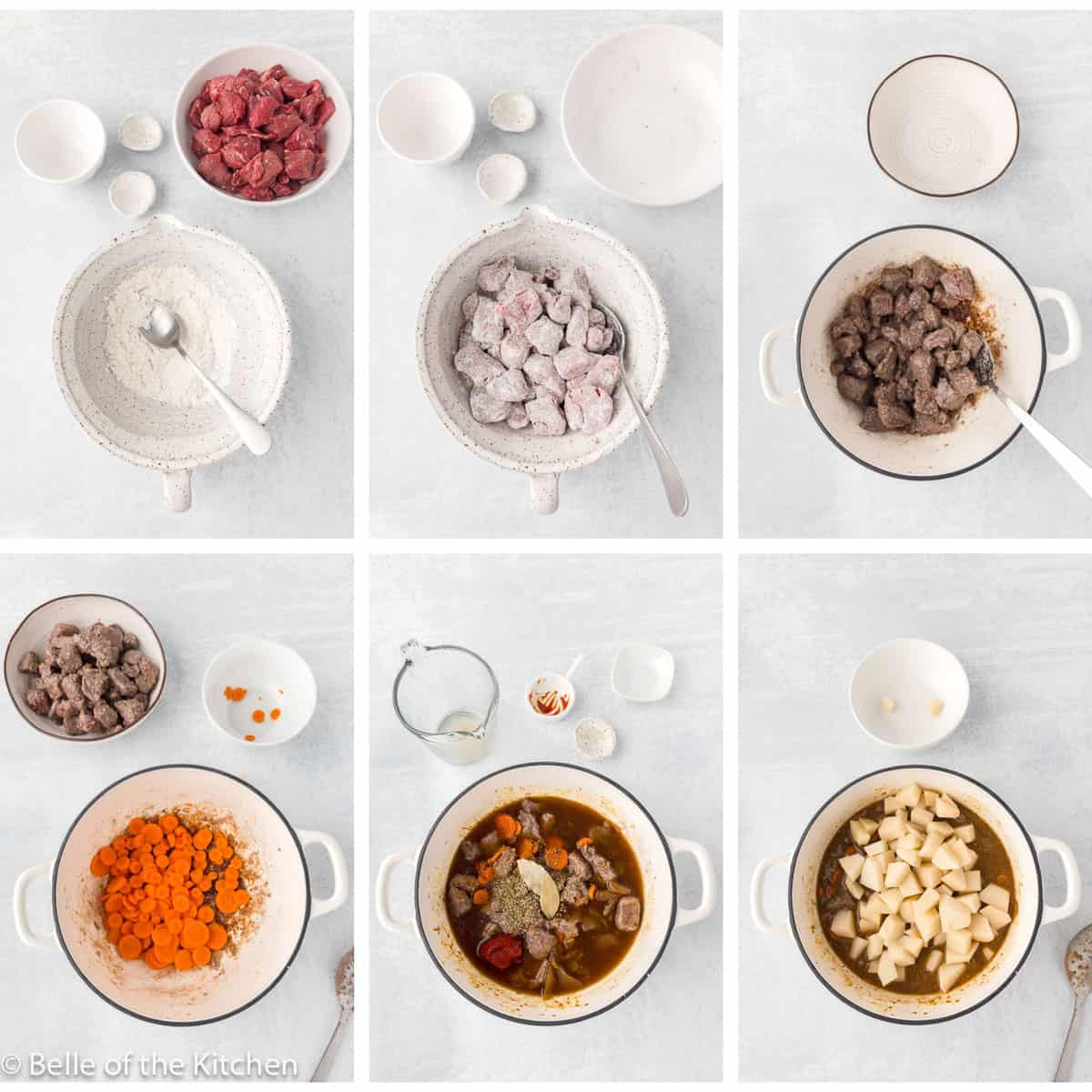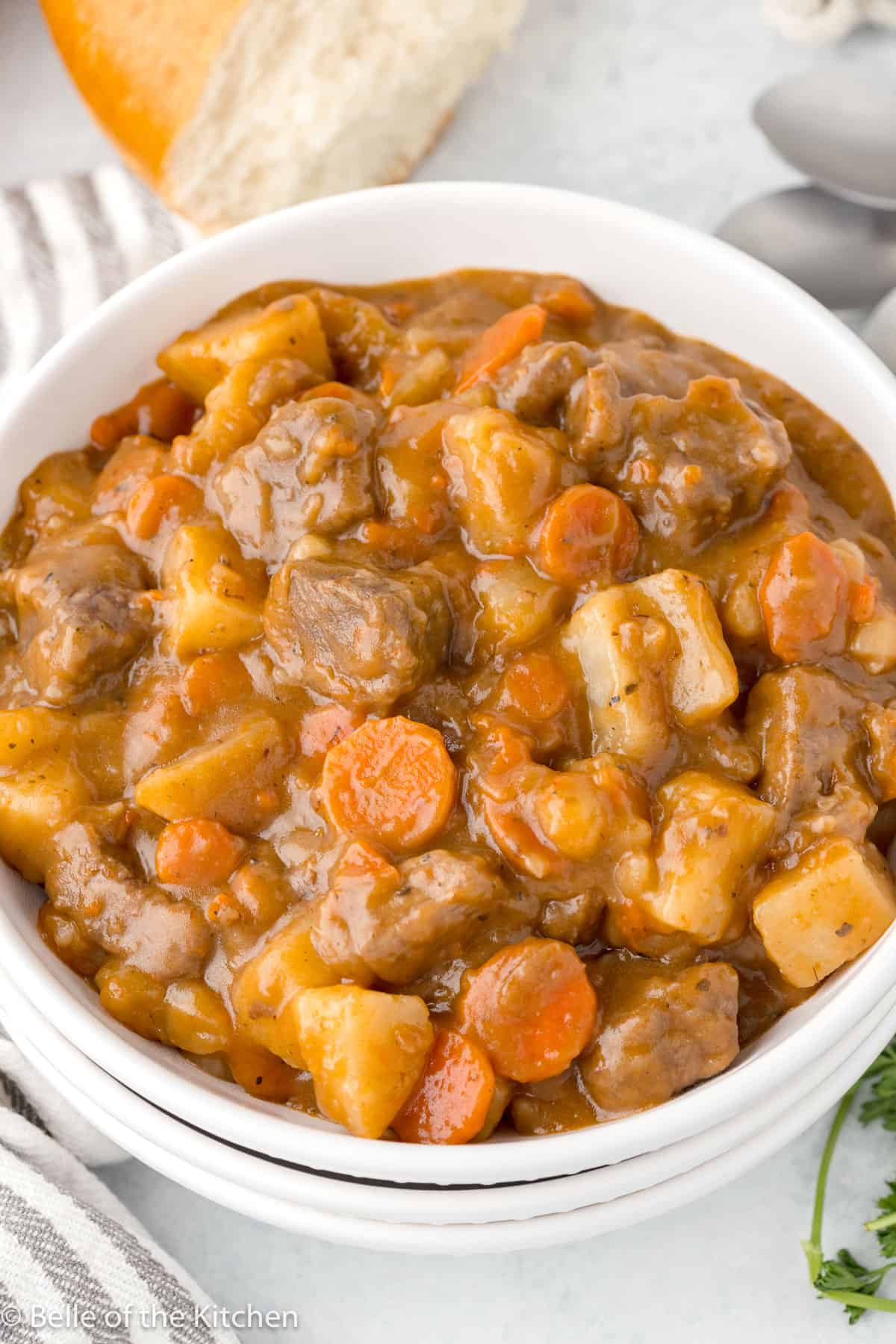 What to Serve with Beef Stew
Theres are lots of delicious beef stew sides that you can choose from to complete your meal. Here are some ideas:
Crusty bread: A warm loaf of crusty bread or slices of Air Fryer Garlic Bread are perfect for soaking up the flavorful stew broth.
Biscuits: Flaky, buttery biscuits are can be served on the side or used to top the stew for a rustic pot pie effect!
Green Salad: A simple green salad or a Strawberry Spinach Salad can provide a refreshing contrast to the hearty stew.
Steamed or Roasted Veggies: I love to serve Air Fryer Roasted Broccoli or Green Beans with almost any meal, and they would be perfect with Dutch Oven Beef Stew!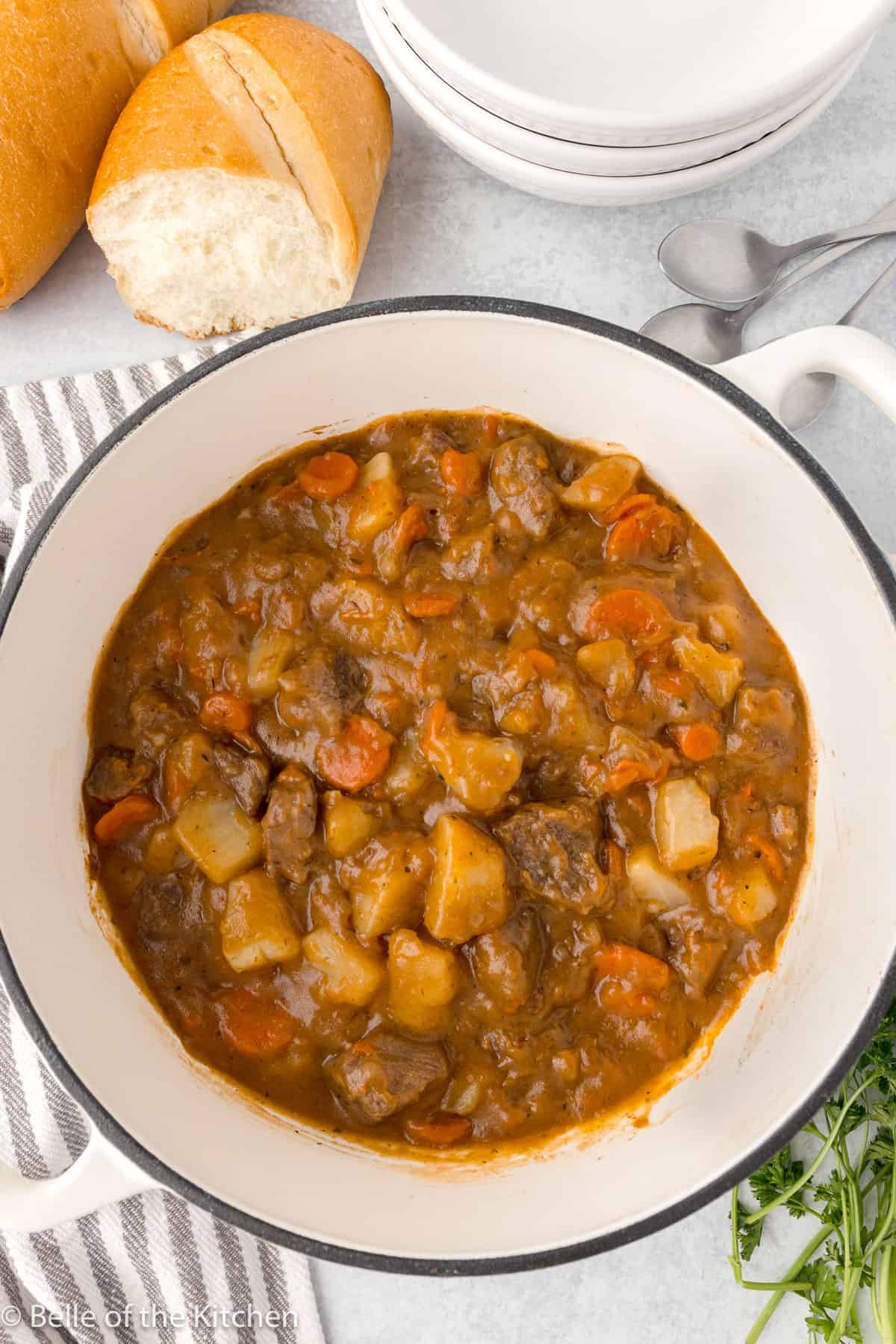 FAQs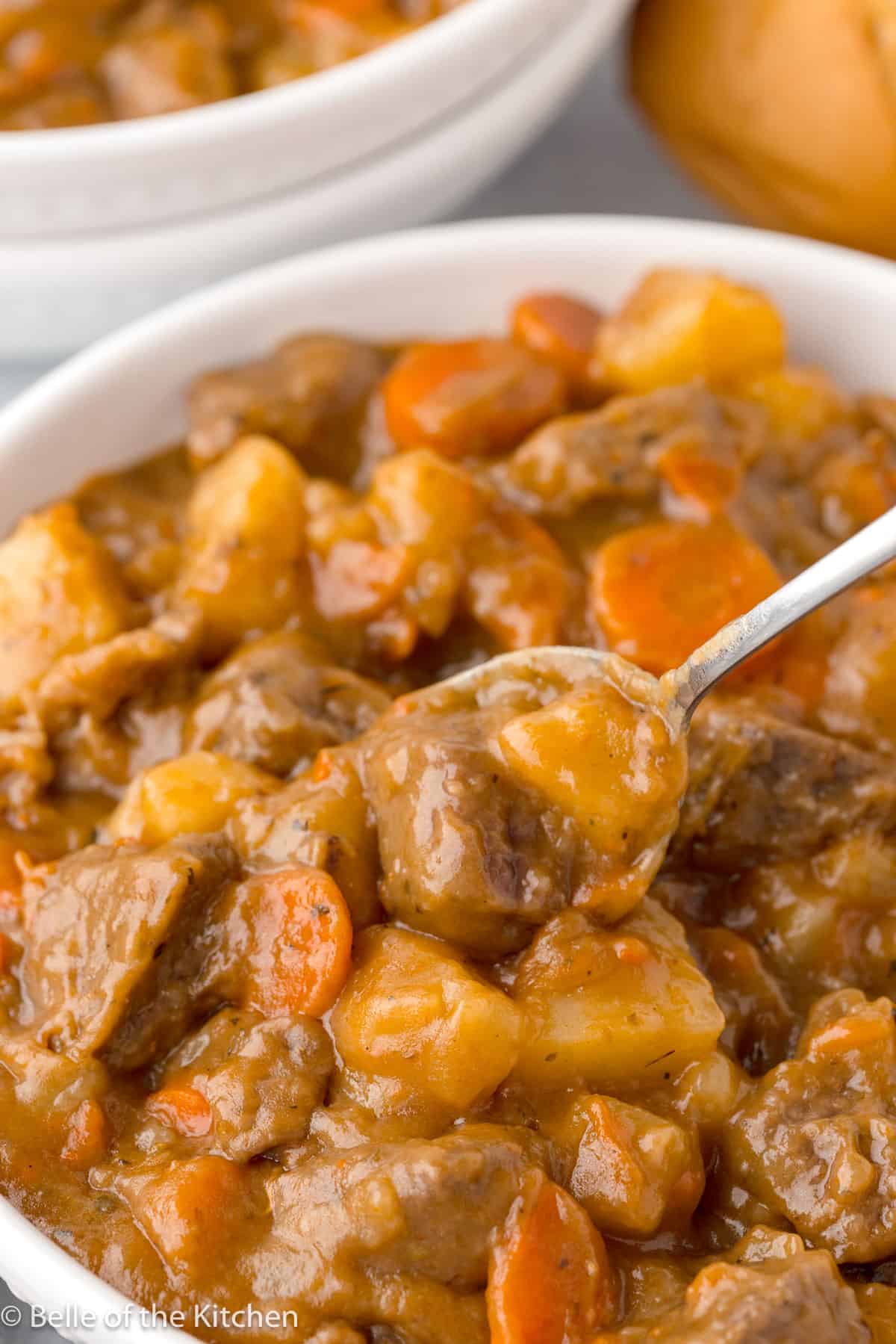 If you try this recipe, please leave a comment and rating below. I love to hear from you and always appreciate your feedback!
This site contains affiliate links, if you make a purchase through them, we receive a small commission.