Pumpkin Sheet Cake Recipe
This Pumpkin Sheet Cake is full of sweet, fall flavors and finished off with a cream cheese icing. It's easy to make and perfect for a crowd!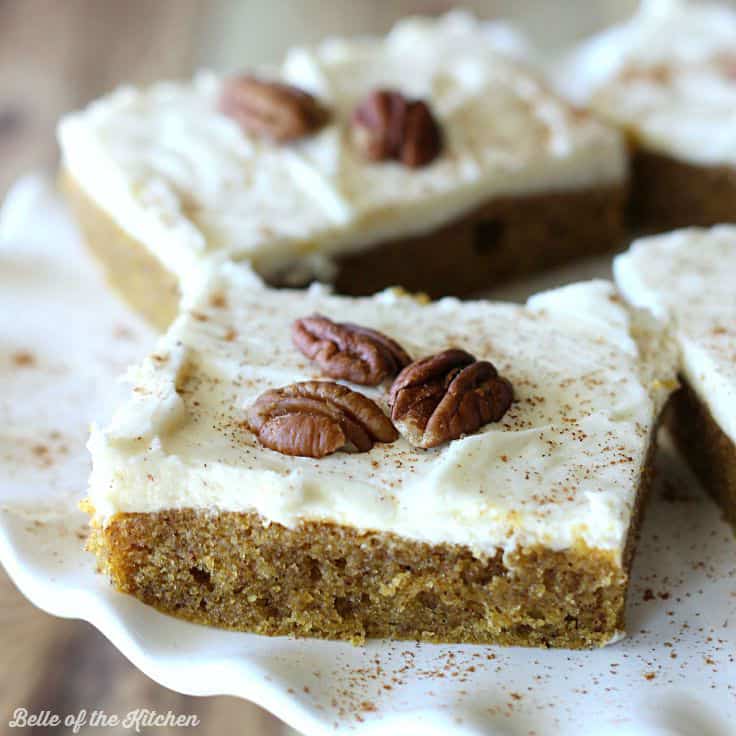 Don't you just love fall? I know I do! I can't help but look forward to the change of seasons, even if that change is almost nonexistent out here in Hawaii.
Our weather pretty much never changes, but boy do I love when the time comes around to pull out my big storage tubs full of decorations for fall and Halloween!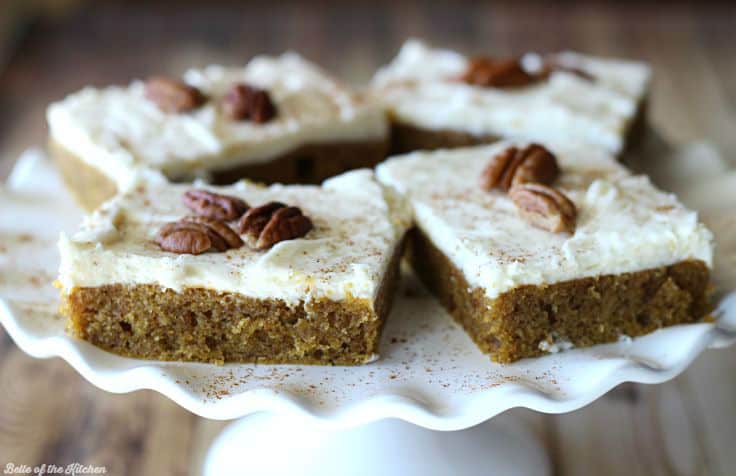 Now that it's fall, it's also time to bask in the glory of all things pumpkin! I know that I enjoy my fair share of pumpkin spice lattes, and pumpkin scented candles. I also bought pumpkin scented hand sanitizer the other day!
Now I can truly smell like the season no matter where I go, or how many diapers I've changed! Oh yes, the joys of being a mama.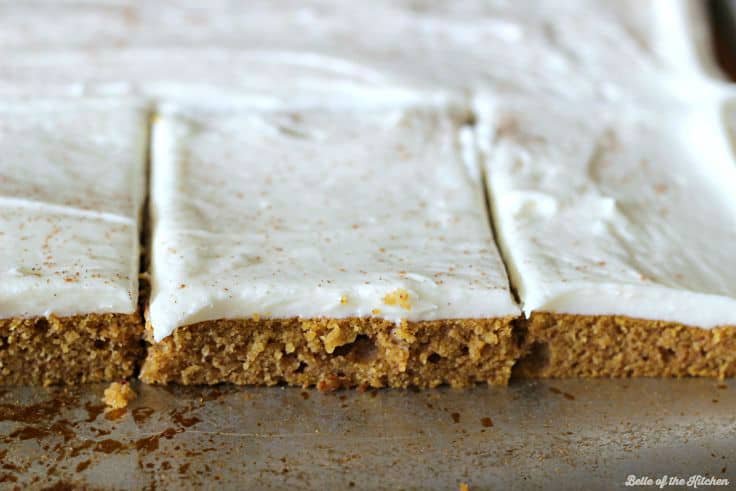 I feel like pumpkin has really grown in popularity over the past few years. Before the big pumpkin spice latte craze, I don't know if I had really had pumpkin any other way than simply as a pie, and that was really just reserved for Thanksgiving.
I'm one of those die-hard pumpkin fans though, so to me, the more the merrier!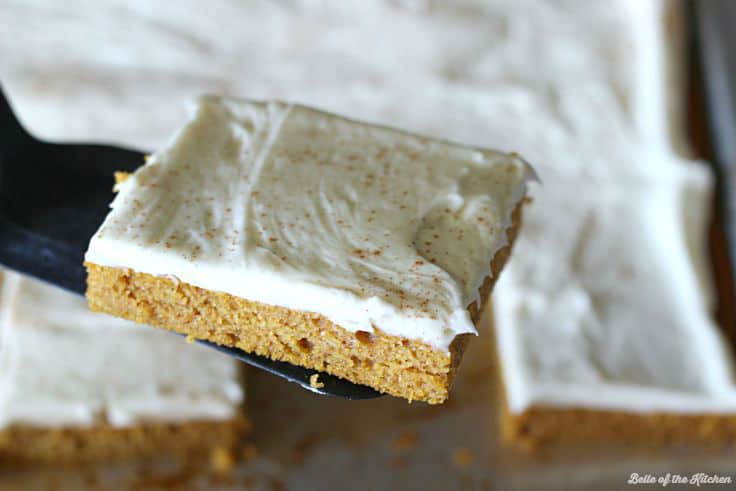 While I do enjoy pumpkin pie and pumpkin bread, I also really love this Pumpkin Sheet Cake. It's super easy to whip up and makes enough for a crowd, so it's great to take to work or holiday functions.
I like to sprinkle a little bit of cinnamon and some chopped pecans over the top before serving, just for a little extra pizazz.
I originally shared this recipe a few weeks ago over at Kenarry: Ideas for The Home. While I was over there, Carrie was here on my blog sharing her recipe for Pumpkin Pie Parfaits. Be sure to go check them out if you haven't had a chance to yet!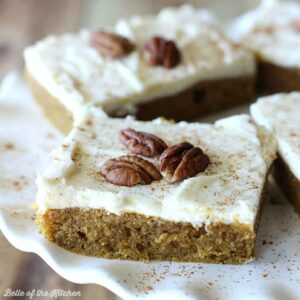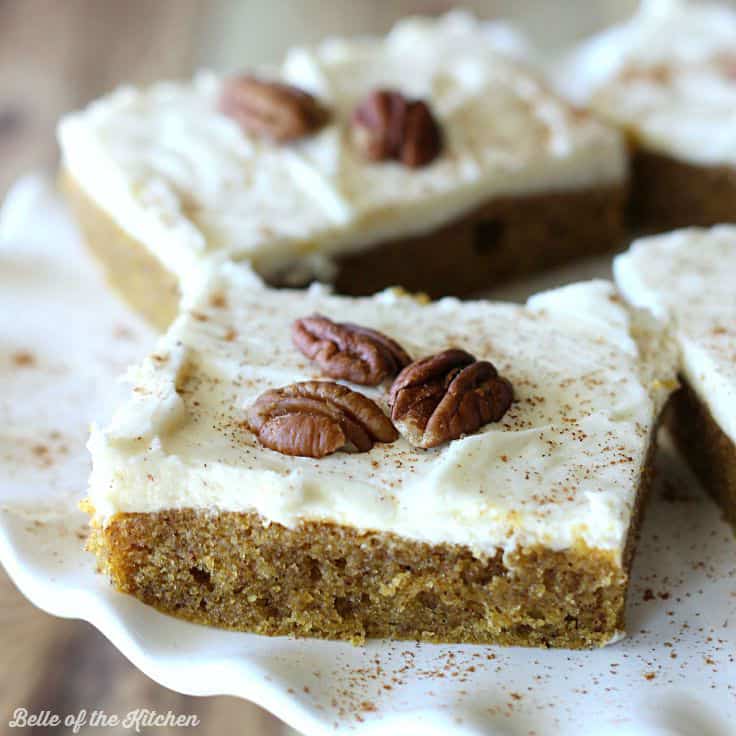 Pumpkin Sheet Cake
This Pumpkin Sheet Cake is full of sweet, fall flavors and finished off with a cream cheese icing. It's easy to make and perfect for a crowd!
Ingredients
Cake:
1 3/4 cup sugar
1 (15 oz) can pumpkin puree (not pumpkin pie mix)
1 cup vegetable oil
4 eggs
2 cups all purpose flour
2 teaspoons cinnamon
2 teaspoons baking soda
1/2 teaspoon salt
1/2 teaspoon nutmeg
Cream Cheese Icing:
1 (8 oz) package cream cheese, softened
1/2 cup butter,, softened
2 teaspoons vanilla
3 1/2-4 cups powdered sugar
2-3 teaspoons milk
Instructions
Preheat oven to 350 degrees. Grease a 15x10 inch pan ( a large rimmed cookie sheet for me) and set aside.

Beat together sugar, pumpkin, oil, and eggs. In a separate bowl, combine flour, cinnamon, baking soda, salt, and nutmeg. Gradually add dry ingredients to the pumpkin mixture and mix well.

Pour into prepared pan and spread evenly. Bake for 20-25 minutes, until toothpick inserted in center comes out clean. Remove from oven and cool on a wire rack.

Prepare frosting: beat cream cheese, butter, and vanilla until smooth. Gradually add powdered sugar until smooth and desired consistency is reached. Add in a couple teaspoons of milk to thin out frosting. Spread on top of cooled cake then sprinkle with cinnamon and chopped pecans if desired.
Calories: 324kcal, Carbohydrates: 60g, Protein: 3g, Fat: 8g, Saturated Fat: 5g, Cholesterol: 56mg, Sodium: 277mg, Potassium: 31mg, Sugar: 47g, Vitamin A: 245IU, Calcium: 13mg, Iron: 1mg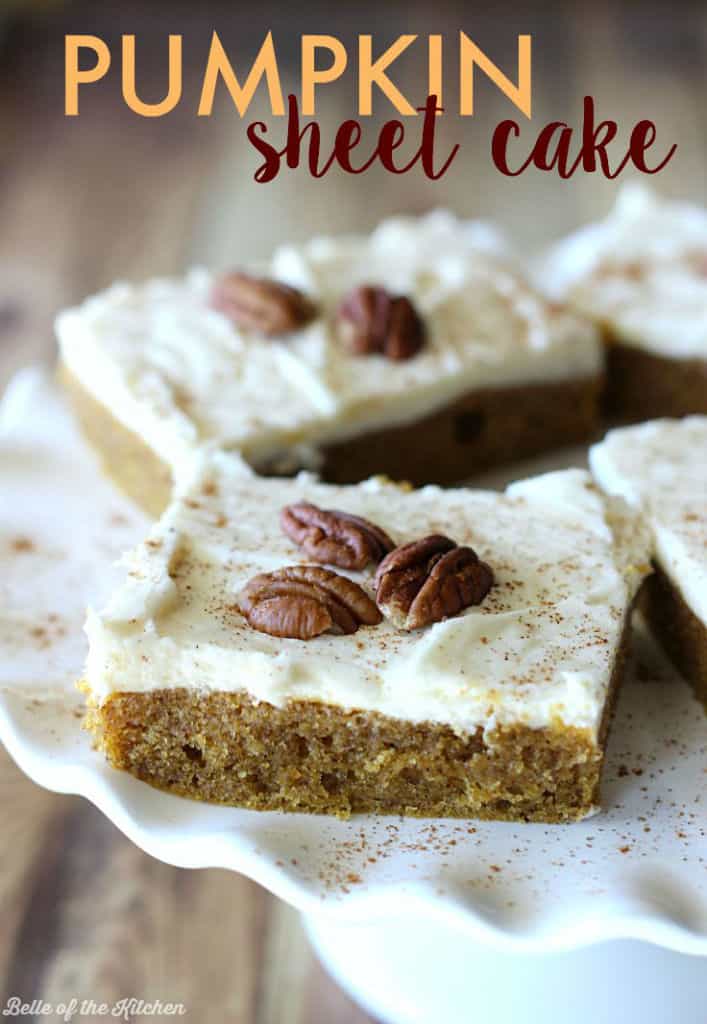 If you like this Pumpkin Sheet Cake, then you might also like:
This site contains affiliate links, if you make a purchase through them, we receive a small commission.