Oreo Four Layer Dessert Recipe
Oreo Four Layer Dessert – an irresistible dessert made with layers of whipped cream, pudding, Oreos, cream cheese, and a buttery crust. This is a real crowd pleaser!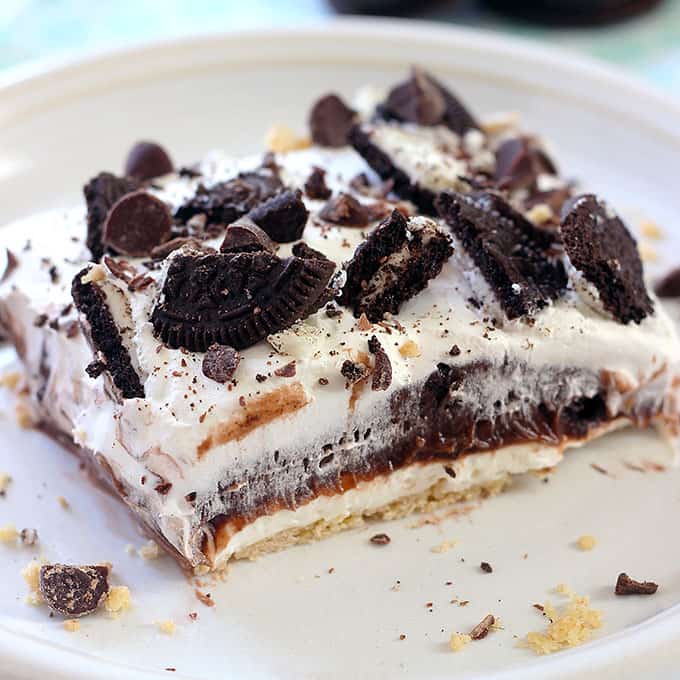 Hey there, y'all, and happy Wednesday! It's been super gloomy where we are in Texas the past few days, and I thought we could all use a little chocolate to cheer us up during the midweek slump.
This Four Layer Dessert recipe comes straight from my mom's recipe box, and I have loved it and have been devouring it for as long as I can remember. The index card that it was written on is stain covered and written in my mom's neat handwriting. I absolutely LOVE those old recipe cards written by hand, and I cherish them just as much as I do the recipe itself. I have a handful from my mom, grandma, and my sister, and they will always be extra special to me.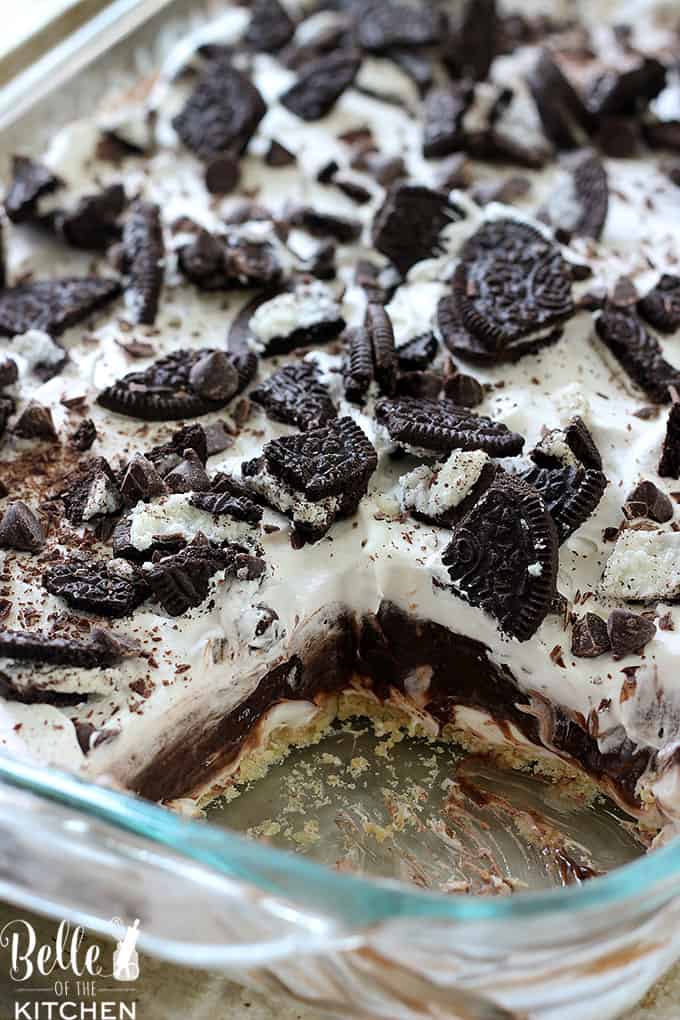 We grew up eating this dessert a lot when we were kids, and now I make it for my own family, too. My mom's recipe doesn't call for Oreos, and is delicious without them, but if you're an Oreo lover like my kiddos and me? Well, they really take this four layer dessert up to the next level!
The only other change that I make to my mom's recipe is to leave out the nuts in the crust. My son has a peanut allergy so we avoid all nuts, but I left it in the recipe because if you don't have a nut allergy to contend with, it sure makes that crust extra tasty!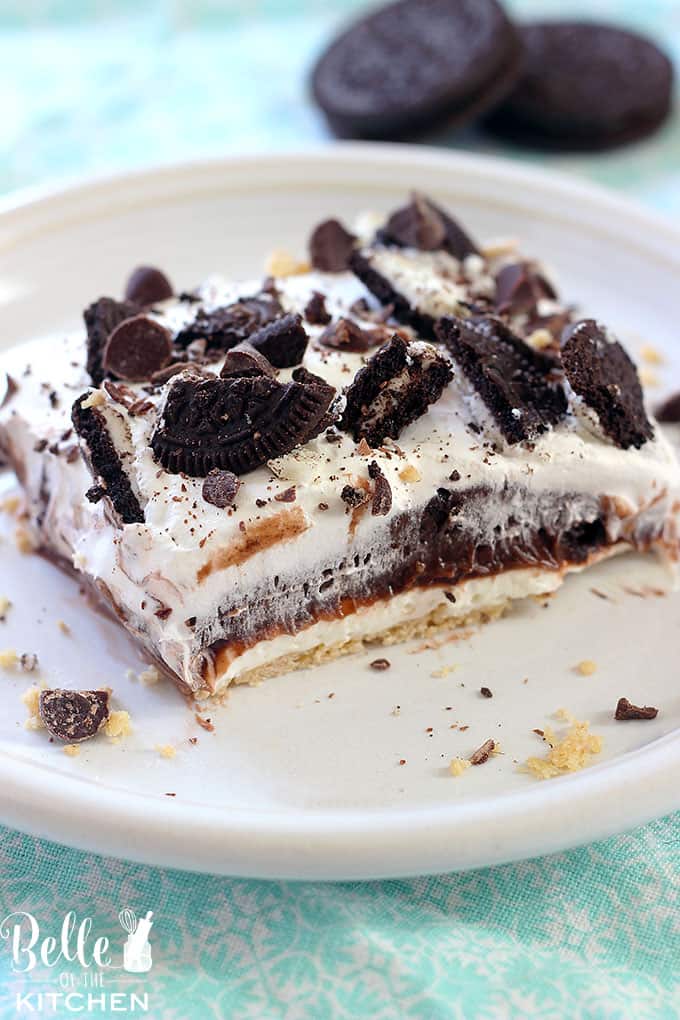 In other news, I'm a little over three weeks out from my due date and couldn't be more excited! Time seems to be dragging these past few weeks, as I grow more and more uncomfortable. I just ordered his coming home outfit today though, so I want him to wait until that at least gets here! Besides that, I'm feeling pretty ready. Still need to pack the hospital bag, though, so guess I'm not totally prepared, haha!
Have a great rest of the week, y'all!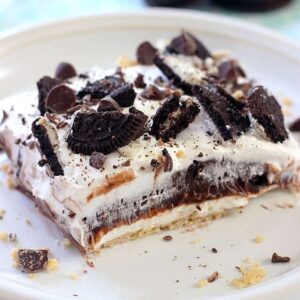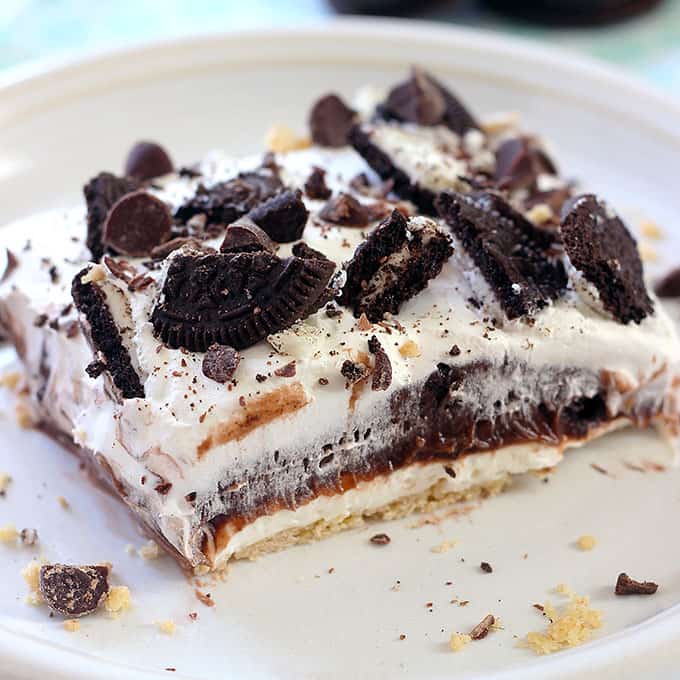 Oreo Four Layer Dessert
This Oreo Four Layer Dessert is one of our favorites! No one is able to resist it.
Ingredients
1 cup all purpose flour
1/2 cup finely chopped nuts like walnuts or pecans,, optional
1 stick butter,, softened
8 oz. cream cheese,, softened
1 cup powdered sugar
1 8 oz container whipped topping, divided
2 3 oz boxes instant chocolate pudding mix
10-12 Oreos,, crushed into small pieces
3 cups cold milk
Topping:
more Oreos,, crushed
chocolate chips
Instructions
Preheat oven to 350 degrees. Lightly spray the bottom of a 9x13 inch baking pan with cooking spray and set aside.

In a medium sized bowl, combine the flour, nuts (if using), and butter until crumbly dough forms. I usually use a fork or pastry blender for this, and sometimes my hands to get it combined well.

Spread evenly into the bottom of prepared baking pan, using your hands or the back of a spoon to get it evenly distributed. Bake in preheated oven for 15-20 minutes until dough is set and edges are golden brown. Set on a wire rack to cool.

In a medium sized bowl, beat together the cream cheese and powdered sugar with an electric mixer until smooth. Fold in 1 cup of the whipped topping, then spread over the cooled crust.

In a medium sized bowl, mix together the pudding mixes with the cold milk, then stir in the chopped Oreos. Allow to set just slightly, about 2-3 minutes, then spread over the top of the cream cheese layer.

Spread the rest of the container of whipped topping over the pudding layer. Chill dessert in the refrigerator for at least two hours. Top with more crushed Oreos and chocolate chips if desired. Enjoy!
Calories: 364kcal, Carbohydrates: 44g, Protein: 5g, Fat: 18g, Saturated Fat: 9g, Cholesterol: 34mg, Sodium: 423mg, Potassium: 190mg, Fiber: 1g, Sugar: 30g, Vitamin A: 420IU, Vitamin C: 0.1mg, Calcium: 89mg, Iron: 2.1mg

If you like this Oreo Four Layer Dessert, you might also enjoy these recipes:
This site contains affiliate links, if you make a purchase through them, we receive a small commission.